Bin Picking Studio robotic intelligence software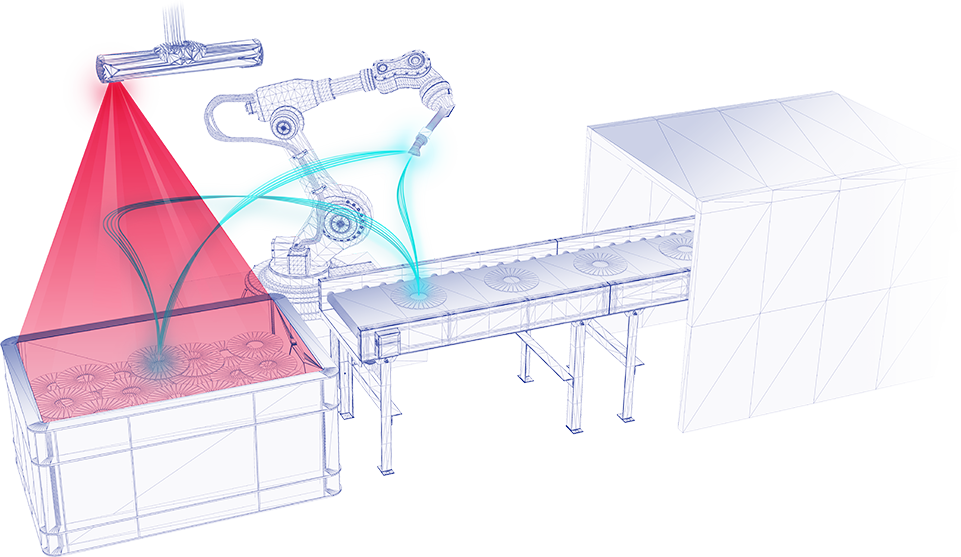 Bin Picking Studio Benefits
Free of charge expert technological support
Your happiness is our goal. We are ready to answer your questions and help you with deployment. As a bonus, you will get a complimentary feasibility study of parts you want to handle. Our engineers have a proof of the track with successful system deployments and relevant experience in the field.
Large database of supported robot models
Bin Picking Studio is currently supporting a large database of robot models. And with the ones that are not, we commit ourselves to add any model of the robot from the supported brands for you, your projects and your convenience.
Design, visualize and configure
Track your work in the visual setup wizard. Get feedback on each step within the configuration immediately and reduce your designing phase.
Pick multiple objects
You are able to pick up to 4 different objects and use up to 4 scanners within one bin-picking scenario.
Never start from zero again
Bin Picking Studio allows you to reuse previous solutions
Instant finding of gripping points​
Studio offers a specially designed engine for the selection of gripping points in the virtual environment directly on the model of an object. With this tool, finding the right point to grasp will never be a problem.
How does it work?
Select the robot
For you and your projects, we have developed the largest database of robots. We are supporting great amount of robot models from various brands. And if you have a robot that is not in our list - get in touch and we will gladly provide assistance and integrate it into our Bin Picking Studio.
Upload the gripper
Upload the CAD model of your gripping tool. The model of the gripper is used for tool point configuration in the virtual environment.
Upload your object
All you need to start planning your bin-picking gripping points is a CAD model of the product you want to pick. Upload it into the Bin Picking Studio and immediately start working with it in a virtual environment
Set up gripping & tool points
The setup of bin picking begins with the selection of points where and how will the gripper grasp the object. Bin Picking Studio offers you full support also in this task. Thanks to the simple visual process you no heavy math involved.
Load your environment
In this step, we will let the Bin Picking Studio know where will the picking take place. It is done again in the easiest fashion possible - by loading a CAD model of your picking cell. Immediately after the upload, the Studio offers you a 3D visualization available for work.
Setup your part localization
Bin Picking Studio implements a built-in engine for setting up an object localization algorithm. The algorithm based on the CAD matching approach was developed by Photoneo to suits the use for bin-picking with a focus on speed and robustness.
Robot to camera calibration
Robot calibration was never easier. With Photoneo's Bin Picking Studio you no longer need expensive and specific objects or specially prepared calibration sheets. One round object in the shape of a sphere is enough. Calibrate and synchronize your scanner and robot via the intuitive guided program. You will immediately receive visual feedback that you are able to validate and evaluate throughout the entire calibration.
Interactive debugging
And finally, it is time to pick. Utilize the ultimate advance debugging tools within the virtual environment. These will allow you to see how well was the solution prepared.