Camera Link Repeaters
Repeaters support applications requiring extension of cable length. One cable connects the camera to the repeater, and a second cable connects the repeater to the frame grabber.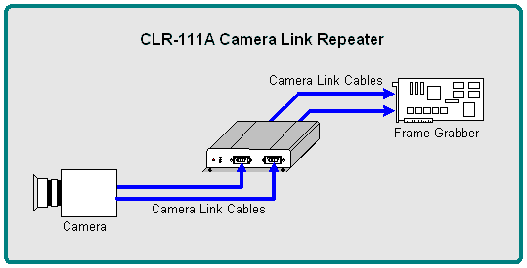 Repeaters come in sturdy, compact aluminum casings and are well suited for industrial environments.
Let us help you find the repeater that best suits your needs!
Finding the repeater that is best for you
Using our advanced search engine, you can define the following characteristics to locate the repeater most suited to your needs:
Camera Link base to Camera Link base
Camera Link base, Camera Link medium, Camera Link full to Camera Link base, Camera Link medium, Camera Link full
Camera Link Repeaters Products
| | Part # | Description | CATEGORY | SUB CATEGORY | MANUFACTURER | Datasheet | Voltage | Temp. Range | Weight[g] | IF Side1 | IF Side2 | Freq range [MHz] | PoCL | USERMANUAL |
| --- | --- | --- | --- | --- | --- | --- | --- | --- | --- | --- | --- | --- | --- | --- |
| | CLR-101C | | Accessories | CameraLink Simulators; | Vivid | Download | | | | Camera Link Base | Camera Link Base | 20-85 | N | Download |
| | CLR-102 | | Accessories | CameraLink Simulators; | Vivid | Download | | | | Camera Link Base | Camera Link Base | 20-85 | Y | Download |
| | CLR-111A | | Accessories | CameraLink Simulators; | Vivid | Download | | | | Camera Link Base,Camera Link Medium,Camera Link Full | Camera Link Base,Camera Link Medium,Camera Link Full | 20-85 | N | Download |
| | VLink-Base | VLink Series is a cost-effective Camera Link repeater to dramatically increase the distance between a camera and frame grabber. It amplifies video signal that are attenuated on the Camera Link cable and doubles the available cable length through LVDS output connector equipped with a pre-emphasis feature.VLink Series allows not only to simplify the machine vision systems but also to save the cost with the least number of the repeaters and cables. The VLink-Base model supports Camera Link Base configuration. | Accessories | CameraLink Repeaters; | VIEWORKS | Download | 8-24v | 0° to 50°C | 160g | Camera Link Base | Camera Link Base | 20-85 | Y | Download |
| | VLink-Full | VLink Series is a cost-effective Camera Link repeater to dramatically increase the distance between a camera and frame grabber. It amplifies video signal that are attenuated on the Camera Link cable and doubles the available cable length through LVDS output connector equipped with a pre-emphasis feature.VLink Series allows not only to simplify the machine vision systems but also to save the cost with the least number of the repeaters and cables. The VLink-Full model supports Camera Link Base/Medium/Full configurations. | Accessories | CameraLink Repeaters; | VIEWORKS | Download | 8-24v | 0° to 50°C | 400g | Camera Link Base,Camera Link Medium,Camera Link Full | Camera Link Base,Camera Link Medium,Camera Link Full | 20-85 | Y | Download |
| | CXP-HBHB-01-0000 | The in-line CoaXPress repeater is designed to transmit and receive signals on 75 ohm coaxial cable. In one direction an 8b/10b coded downlink signal is transmitted between 1.25 Gbps and 12.5 Gbps. In the opposite direction, a lower speed 8b/10b coded uplink signal is transmitted at 21Mbps or 42Mbps. The repeater performs equalising, re-clocking and cable driving functions for both the up and downlinks. Multiple repeaters can be used in a single connection to extend cable distance to suit individual applications. The repeater requires power over CoaXPress (PoCXP) to operate, negating the need for an external power source. The repeater is directional and must be inserted into the transmission line as indicated on the coaxial ports. An LED indicator is lit when the port is in use. | Accessories | Repeaters; | | Download | | -40° to 50°C | | | | | | |
| | CXP-HBHB-02-0000 | The in-line CoaXPress repeater is designed to transmit and receive signals on 75 ohm coaxial cable. In one direction an 8b/10b coded downlink signal is transmitted between 1.25 Gbps and 12.5 Gbps. In the opposite direction, a lower speed 8b/10b coded uplink signal is transmitted at 21Mbps or 42Mbps. The repeater performs equalising, re-clocking and cable driving functions for both the up and downlinks. Multiple repeaters can be used in a single connection to extend cable distance to suit individual applications. The repeater requires power over CoaXPress (PoCXP) to operate, negating the need for an external power source. The repeater is directional and must be inserted into the transmission line as indicated on the coaxial ports. An LED indicator is lit when the port is in use. | Accessories | Repeaters; | | Download | | -40° to 50°C | | | | | | |
| | CXP-HBHB-04-0000 | The in-line CoaXPress repeater is designed to transmit and receive signals on 75 ohm coaxial cable. In one direction an 8b/10b coded downlink signal is transmitted between 1.25 Gbps and 12.5 Gbps. In the opposite direction, a lower speed 8b/10b coded uplink signal is transmitted at 21Mbps or 42Mbps. The repeater performs equalising, re-clocking and cable driving functions for both the up and downlinks. Multiple repeaters can be used in a single connection to extend cable distance to suit individual applications. The repeater requires power over CoaXPress (PoCXP) to operate, negating the need for an external power source. The repeater is directional and must be inserted into the transmission line as indicated on the coaxial ports. An LED indicator is lit when the port is in use. | Accessories | Repeaters; | | Download | | -40° to 50°C | | | | | | |