Camera Link Multiplexers
Camera Link multiplexers interface up-to four Camera Link cameras to one frame grabber using standard Camera Link cables, to support applications requiring the ability to select between several cameras. The frequency range is 20-85 MHz.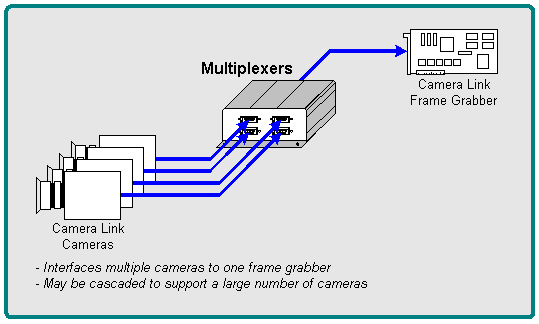 The multiplexers offer the following camera selection techniques:
Rear-panel switch settings
Camera Link interface signals (serial or camera control)
External RS-232 port.
Camera Link multiplexers are housed in a durable, compact aluminum casing.
Let us help you find the Camera Link multiplexer you need!
Finding the multiplexer that is best for you
Using our advanced search engine you can define the following characteristics to locate the multiplexer most suited to your needs:
Camera Link base to Camera Link base
Camera Link base, Camera Link medium, Camera Link full to Camera Link base, Camera Link medium, Camera Link full
Weight: 160, 400 grams
Camera Link Multiplexers Products
| | Part # | Description | CATEGORY | SUB CATEGORY | MANUFACTURER | Datasheet | IF Side1 | IF Side2 | Freq range [MHz] | USERMANUAL |
| --- | --- | --- | --- | --- | --- | --- | --- | --- | --- | --- |
| | CLM-601 | | Accessories | CameraLink Multiplexer; | Vivid | Download | Camera Link Base | Camera Link Base | 20-85 | Download |
| | CLM-611 | | Accessories | CameraLink Multiplexer; | Vivid | Download | Camera Link Base,Camera Link Medium,Camera Link Full | Camera Link Base,Camera Link Medium,Camera Link Full | 20-85 | Download |