Diffused Axial Light
Diffused Axial lights are particularly useful to produce even lighting on uneven or reflective surfaces, and in situations where the area of inspection is obscured by shadows from its surroundings. Diffused Axial lights use beam-splitter technology to reflect the diffused light onto a wide field of view. Diffused Axial Lights are mainly used in surfaces such as wafers, metal surfaces, film, liquid crystals, and glass.
Let us help you find the Diffused Axial lights that best suits your needs!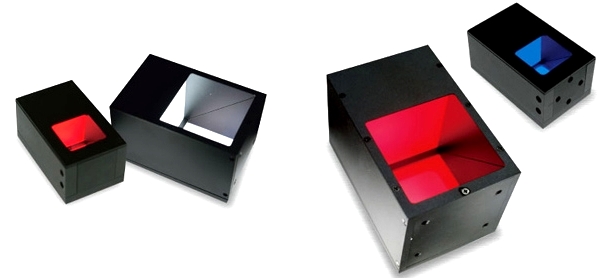 Diffused Axial Light Products
Part #
Description
CATEGORY
SUB CATEGORY
MANUFACTURER
Size
Datasheet
Voltage
Weight[g]
Power
Illumination Color
MB-DAL105-R-24

This MetaBright™ high power Diffuse Axial Light produces uniform intensity for 1" x 1" lighting area. Our Diffuse Axial Lights can be configured for wavelength and other specifications.

Illumination
Diffused Axial Light;
Metaphase
1ʺx1ʺ
Download
24V
320g
40mA
Red
MB-DAL105-IRN-24
This MetaBright™ high power Diffuse Axial Light produces uniform intensity for 1" x 1" lighting area. Our Diffuse Axial Lights can be configured for wavelength and other specifications.
Illumination
Diffused Axial Light;
Metaphase
1ʺx1ʺ
Download
24V
Infra-Red (850nm)
MB-DAL105-B-24
This MetaBright™ high power Diffuse Axial Light produces uniform intensity for 1" x 1" lighting area. Our Diffuse Axial Lights can be configured for wavelength and other specifications.
Illumination
Diffused Axial Light;
Metaphase
1ʺx1ʺ
Download
24V
Blue
MB-DAL105-G-24
This MetaBright™ high power Diffuse Axial Light produces uniform intensity for 1" x 1" lighting area. Our Diffuse Axial Lights can be configured for wavelength and other specifications.
Illumination
Diffused Axial Light;
Metaphase
1ʺx1ʺ
Download
24V
Green
MB-DAL105-W-24
This MetaBright™ high power Diffuse Axial Light produces uniform intensity for 1" x 1" lighting area. Our Diffuse Axial Lights can be configured for wavelength and other specifications.
Illumination
Diffused Axial Light;
Metaphase
1ʺx1ʺ
Download
24V
White
MB-DAL105-UVL-24
This MetaBright™ high power Diffuse Axial Light produces uniform intensity for 1" x 1" lighting area. Our Diffuse Axial Lights can be configured for wavelength and other specifications.
Illumination
Diffused Axial Light;
Metaphase
1ʺx1ʺ
Download
24V
UVL (395nm)
MB-DAL105-UVS-24
This MetaBright™ high power Diffuse Axial Light produces uniform intensity for 1" x 1" lighting area. Our Diffuse Axial Lights can be configured for wavelength and other specifications.
Illumination
Diffused Axial Light;
Metaphase
1ʺx1ʺ
Download
24V
UV (365nm)
MB-DAL205-R-24
This MetaBright™ high power Diffuse Axial Light produces uniform intensity for 2" x 2" lighting area. Our Diffuse Axial Lights can be configured for wavelength and other specifications.
Illumination
Diffused Axial Light;
Metaphase
2ʺ x 2ʺ
Download
24V
Red
MB-DAL205-IRN-24
This MetaBright™ high power Diffuse Axial Light produces uniform intensity for 2" x 2" lighting area. Our Diffuse Axial Lights can be configured for wavelength and other specifications.
Illumination
Diffused Axial Light;
Metaphase
2ʺ x 2ʺ
Download
24V
Infra-Red (850nm)
MB-DAL205-B-24
This MetaBright™ high power Diffuse Axial Light produces uniform intensity for 2" x 2" lighting area. Our Diffuse Axial Lights can be configured for wavelength and other specifications.
Illumination
Diffused Axial Light;
Metaphase
2ʺ x 2ʺ
Download
24V
Blue
MB-DAL205-G-24
This MetaBright™ high power Diffuse Axial Light produces uniform intensity for 2" x 2" lighting area. Our Diffuse Axial Lights can be configured for wavelength and other specifications.
Illumination
Diffused Axial Light;
Metaphase
2ʺ x 2ʺ
Download
24V
Green
MB-DAL205-W-24
This MetaBright™ high power Diffuse Axial Light produces uniform intensity for 2" x 2" lighting area. Our Diffuse Axial Lights can be configured for wavelength and other specifications.
Illumination
Diffused Axial Light;
Metaphase
2ʺ x 2ʺ
Download
24V
White
MB-DAL205-UVL-24
This MetaBright™ high power Diffuse Axial Light produces uniform intensity for 2" x 2" lighting area. Our Diffuse Axial Lights can be configured for wavelength and other specifications.
Illumination
Diffused Axial Light;
Metaphase
2ʺ x 2ʺ
Download
24V
UVL (395nm)
MB-DAL205-UVS-24
This MetaBright™ high power Diffuse Axial Light produces uniform intensity for 2" x 2" lighting area. Our Diffuse Axial Lights can be configured for wavelength and other specifications.
Illumination
Diffused Axial Light;
Metaphase
2ʺ x 2ʺ
Download
24V
UV (365nm)
MB-DAL305-R-24
This MetaBright™ high power Diffuse Axial Light produces uniform intensity for 3" x 3" lighting area. Our Diffuse Axial Lights can be configured for wavelength and other specifications.
Illumination
Diffused Axial Light;
Metaphase
3ʺ x 3ʺ
Download
24V
Red
MB-DAL305-IRN-24
This MetaBright™ high power Diffuse Axial Light produces uniform intensity for 3" x 3" lighting area. Our Diffuse Axial Lights can be configured for wavelength and other specifications.
Illumination
Diffused Axial Light;
Metaphase
3ʺ x 3ʺ
Download
24V
Infra-Red (850nm)
MB-DAL305-B-24
This MetaBright™ high power Diffuse Axial Light produces uniform intensity for 3" x 3" lighting area. Our Diffuse Axial Lights can be configured for wavelength and other specifications.
Illumination
Diffused Axial Light;
Metaphase
3ʺ x 3ʺ
Download
24V
Blue
MB-DAL305-G-24
This MetaBright™ high power Diffuse Axial Light produces uniform intensity for 3" x 3" lighting area. Our Diffuse Axial Lights can be configured for wavelength and other specifications.
Illumination
Diffused Axial Light;
Metaphase
3ʺ x 3ʺ
Download
24V
Green
MB-DAL305-W-24
This MetaBright™ high power Diffuse Axial Light produces uniform intensity for 3" x 3" lighting area. Our Diffuse Axial Lights can be configured for wavelength and other specifications.
Illumination
Diffused Axial Light;
Metaphase
3ʺ x 3ʺ
Download
24V
White
MB-DAL305-UVL-24
This MetaBright™ high power Diffuse Axial Light produces uniform intensity for 3" x 3" lighting area. Our Diffuse Axial Lights can be configured for wavelength and other specifications.
Illumination
Diffused Axial Light;
Metaphase
3ʺ x 3ʺ
Download
24V
UVL (395nm)
MB-DAL305-UVS-24
This MetaBright™ high power Diffuse Axial Light produces uniform intensity for 3" x 3" lighting area. Our Diffuse Axial Lights can be configured for wavelength and other specifications.
Illumination
Diffused Axial Light;
Metaphase
3ʺ x 3ʺ
Download
24V
UV (365nm)
MB-DAL405-R-24
This MetaBright™ high power Diffuse Co-axial Illuminator produces uniform intensity for 4" x 4" lighting area. Our Diffuse Co-axial illuminators can be configured for wavelength and other specifications.
Illumination
Diffused Axial Light;
Metaphase
4ʺx4ʺ
Download
24V
Red
MB-DAL405-IRN-24
This MetaBright™ high power Diffuse Co-axial Illuminator produces uniform intensity for 4" x 4" lighting area. Our Diffuse Co-axial illuminators can be configured for wavelength and other specifications.
Illumination
Diffused Axial Light;
Metaphase
4ʺx4ʺ
Download
24V
Infra-Red (850nm)
MB-DAL405-B-24
This MetaBright™ high power Diffuse Co-axial Illuminator produces uniform intensity for 4" x 4" lighting area. Our Diffuse Co-axial illuminators can be configured for wavelength and other specifications.
Illumination
Diffused Axial Light;
Metaphase
4ʺx4ʺ
Download
24V
Blue
MB-DAL405-G-24
This MetaBright™ high power Diffuse Co-axial Illuminator produces uniform intensity for 4" x 4" lighting area. Our Diffuse Co-axial illuminators can be configured for wavelength and other specifications.
Illumination
Diffused Axial Light;
Metaphase
4ʺx4ʺ
Download
24V
Green
MB-DAL405-W-24
This MetaBright™ high power Diffuse Co-axial Illuminator produces uniform intensity for 4" x 4" lighting area. Our Diffuse Co-axial illuminators can be configured for wavelength and other specifications.
Illumination
Diffused Axial Light;
Metaphase
4ʺx4ʺ
Download
24V
White
MB-DAL405-UVL-24
This MetaBright™ high power Diffuse Co-axial Illuminator produces uniform intensity for 4" x 4" lighting area. Our Diffuse Co-axial illuminators can be configured for wavelength and other specifications.
Illumination
Diffused Axial Light;
Metaphase
4ʺx4ʺ
Download
24V
UVL (395nm)
MB-DAL405-UVS-24
This MetaBright™ high power Diffuse Co-axial Illuminator produces uniform intensity for 4" x 4" lighting area. Our Diffuse Co-axial illuminators can be configured for wavelength and other specifications.
Illumination
Diffused Axial Light;
Metaphase
4ʺx4ʺ
Download
24V
UV (365nm)
MB-DAL606-R-24
This MetaBright™ high power Diffuse Axial Light produces uniform intensity for 6" x 6" lighting area. Our Diffuse Axial Lights can be configured for wavelength and other specifications.
Illumination
Diffused Axial Light;
Metaphase
6ʺx6ʺ
Download
24V
Red
MB-DAL606-IRN-24
This MetaBright™ high power Diffuse Axial Light produces uniform intensity for 6" x 6" lighting area. Our Diffuse Axial Lights can be configured for wavelength and other specifications.
Illumination
Diffused Axial Light;
Metaphase
6ʺx6ʺ
Download
24V
Infra-Red (850nm)
MB-DAL606-B-24
This MetaBright™ high power Diffuse Axial Light produces uniform intensity for 6" x 6" lighting area. Our Diffuse Axial Lights can be configured for wavelength and other specifications.
Illumination
Diffused Axial Light;
Metaphase
6ʺx6ʺ
Download
24V
Blue
MB-DAL606-G-24
This MetaBright™ high power Diffuse Axial Light produces uniform intensity for 6" x 6" lighting area. Our Diffuse Axial Lights can be configured for wavelength and other specifications.
Illumination
Diffused Axial Light;
Metaphase
6ʺx6ʺ
Download
24V
Green
MB-DAL606-W-24
This MetaBright™ high power Diffuse Axial Light produces uniform intensity for 6" x 6" lighting area. Our Diffuse Axial Lights can be configured for wavelength and other specifications.
Illumination
Diffused Axial Light;
Metaphase
6ʺx6ʺ
Download
24V
White
MB-DAL606-UVL-24
This MetaBright™ high power Diffuse Axial Light produces uniform intensity for 6" x 6" lighting area. Our Diffuse Axial Lights can be configured for wavelength and other specifications.
Illumination
Diffused Axial Light;
Metaphase
6ʺx6ʺ
Download
24V
UVL (395nm)
MB-DAL606-UVS-24
This MetaBright™ high power Diffuse Axial Light produces uniform intensity for 6" x 6" lighting area. Our Diffuse Axial Lights can be configured for wavelength and other specifications.
Illumination
Diffused Axial Light;
Metaphase
6ʺx6ʺ
Download
24V
UV (365nm)
MB-DAL806-R-24
This MetaBright™ high power Diffuse Axial Light produces uniform intensity for 8" x 8" lighting area. Our Diffuse Axial Lights can be configured for wavelength and other specifications.
Illumination
Diffused Axial Light;
Metaphase
8ʺx8ʺ
Download
24V
Red
MB-DAL806-IRN-24
This MetaBright™ high power Diffuse Axial Light produces uniform intensity for 8" x 8" lighting area. Our Diffuse Axial Lights can be configured for wavelength and other specifications.
Illumination
Diffused Axial Light;
Metaphase
8ʺx8ʺ
Download
24V
Infra-Red (850nm)
MB-DAL806-B-24
This MetaBright™ high power Diffuse Axial Light produces uniform intensity for 8" x 8" lighting area. Our Diffuse Axial Lights can be configured for wavelength and other specifications.
Illumination
Diffused Axial Light;
Metaphase
8ʺx8ʺ
Download
24V
Blue
MB-DAL806-G-24
This MetaBright™ high power Diffuse Axial Light produces uniform intensity for 8" x 8" lighting area. Our Diffuse Axial Lights can be configured for wavelength and other specifications.
Illumination
Diffused Axial Light;
Metaphase
8ʺx8ʺ
Download
24V
Green
MB-DAL806-W-24
This MetaBright™ high power Diffuse Axial Light produces uniform intensity for 8" x 8" lighting area. Our Diffuse Axial Lights can be configured for wavelength and other specifications.
Illumination
Diffused Axial Light;
Metaphase
8ʺx8ʺ
Download
24V
White
MB-DAL806-UVL-24
This MetaBright™ high power Diffuse Axial Light produces uniform intensity for 8" x 8" lighting area. Our Diffuse Axial Lights can be configured for wavelength and other specifications.
Illumination
Diffused Axial Light;
Metaphase
8ʺx8ʺ
Download
24V
UVL (395nm)
MB-DAL806-UVS-24
This MetaBright™ high power Diffuse Axial Light produces uniform intensity for 8" x 8" lighting area. Our Diffuse Axial Lights can be configured for wavelength and other specifications.
Illumination
Diffused Axial Light;
Metaphase
8ʺx8ʺ
Download
24V
UV (365nm)
GL-IFV20R

Coaxial Series Features:

Coaxial lights are mainly designed for objects with highly reflective surfaces.
Allowing to produce simulated even coaxiial lighting for TELECENTRIC MACRO lens and other type of lenses.

Major applications:

Inspection for highly reflective surfaces, such as wafers, metal surfaces, film, liquid crystals and glass.
Imprint check.
Inspection of pattern of printed boards.

Illumination
Diffused Axial Light;
3AM
OD55X33-ID20X20
Download
12V
82g
1.0W
Red
GL-IFV20W

Coaxial Series Features:

Coaxial lights are mainly designed for objects with highly reflective surfaces.
Allowing to produce simulated even coaxiial lighting for TELECENTRIC MACRO lens and other type of lenses.

Major applications:

Inspection for highly reflective surfaces, such as wafers, metal surfaces, film, liquid crystals and glass.
Imprint check.
Inspection of pattern of printed boards.

Illumination
Diffused Axial Light;
3AM
OD55X33-ID20X20
Download
12V
82g
1.5W
White
GL-IFV20B

Coaxial Series Features:

Coaxial lights are mainly designed for objects with highly reflective surfaces.
Allowing to produce simulated even coaxiial lighting for TELECENTRIC MACRO lens and other type of lenses.

Major applications:

Inspection for highly reflective surfaces, such as wafers, metal surfaces, film, liquid crystals and glass.
Imprint check.
Inspection of pattern of printed boards.

Illumination
Diffused Axial Light;
3AM
OD55X33-ID20X20
Download
12V
82g
1.5W
Blue
GL-IFV20G

Coaxial Series Features:

Coaxial lights are mainly designed for objects with highly reflective surfaces.
Allowing to produce simulated even coaxiial lighting for TELECENTRIC MACRO lens and other type of lenses.

Major applications:

Inspection for highly reflective surfaces, such as wafers, metal surfaces, film, liquid crystals and glass.
Imprint check.
Inspection of pattern of printed boards.

Illumination
Diffused Axial Light;
3AM
OD55X33-ID20X20
Download
12V
82g
1.5W
Green
GL-IFV20IR

Coaxial Series Features:

Coaxial lights are mainly designed for objects with highly reflective surfaces.
Allowing to produce simulated even coaxiial lighting for TELECENTRIC MACRO lens and other type of lenses.

Major applications:

Inspection for highly reflective surfaces, such as wafers, metal surfaces, film, liquid crystals and glass.
Imprint check.
Inspection of pattern of printed boards.

Illumination
Diffused Axial Light;
3AM
OD55X33-ID20X20
Download
12V
82g
1.0W
Infra-Red (850nm)
GL-IFV20IR940

Coaxial Series Features:

Coaxial lights are mainly designed for objects with highly reflective surfaces.
Allowing to produce simulated even coaxiial lighting for TELECENTRIC MACRO lens and other type of lenses.

Major applications:

Inspection for highly reflective surfaces, such as wafers, metal surfaces, film, liquid crystals and glass.
Imprint check.
Inspection of pattern of printed boards.

Illumination
Diffused Axial Light;
3AM
OD55X33-ID20X20
Download
12V
82g
1.0W
Infra-Red (940nm)
GL-IFV34R

Coaxial Series Features:

Coaxial lights are mainly designed for objects with highly reflective surfaces.
Allowing to produce simulated even coaxiial lighting for TELECENTRIC MACRO lens and other type of lenses.

Major applications:

Inspection for highly reflective surfaces, such as wafers, metal surfaces, film, liquid crystals and glass.
Imprint check.
Inspection of pattern of printed boards.

Illumination
Diffused Axial Light;
3AM
OD46X33-ID28X26
Download
12V
132g
2.4W
Red
GL-IFV34W

Coaxial Series Features:

Coaxial lights are mainly designed for objects with highly reflective surfaces.
Allowing to produce simulated even coaxiial lighting for TELECENTRIC MACRO lens and other type of lenses.

Major applications:

Inspection for highly reflective surfaces, such as wafers, metal surfaces, film, liquid crystals and glass.
Imprint check.
Inspection of pattern of printed boards.

Illumination
Diffused Axial Light;
3AM
OD46X33-ID28X26
Download
12V
132g
3.9W
White
GL-IFV34B

Coaxial Series Features:

Coaxial lights are mainly designed for objects with highly reflective surfaces.
Allowing to produce simulated even coaxiial lighting for TELECENTRIC MACRO lens and other type of lenses.

Major applications:

Inspection for highly reflective surfaces, such as wafers, metal surfaces, film, liquid crystals and glass.
Imprint check.
Inspection of pattern of printed boards.

Illumination
Diffused Axial Light;
3AM
OD46X33-ID28X26
Download
12V
132g
3.9W
Blue
GL-IFV34G

Coaxial Series Features:

Coaxial lights are mainly designed for objects with highly reflective surfaces.
Allowing to produce simulated even coaxiial lighting for TELECENTRIC MACRO lens and other type of lenses.

Major applications:

Inspection for highly reflective surfaces, such as wafers, metal surfaces, film, liquid crystals and glass.
Imprint check.
Inspection of pattern of printed boards.

Illumination
Diffused Axial Light;
3AM
OD46X33-ID28X26
Download
12V
132g
3.9W
Green
GL-IFV34IR

Coaxial Series Features:

Coaxial lights are mainly designed for objects with highly reflective surfaces.
Allowing to produce simulated even coaxiial lighting for TELECENTRIC MACRO lens and other type of lenses.

Major applications:

Inspection for highly reflective surfaces, such as wafers, metal surfaces, film, liquid crystals and glass.
Imprint check.
Inspection of pattern of printed boards.

Illumination
Diffused Axial Light;
3AM
OD46X33-ID28X26
Download
12V
132g
2.4W
Infra-Red (850nm)
GL-IFV34IR940

Coaxial Series Features:

Coaxial lights are mainly designed for objects with highly reflective surfaces.
Allowing to produce simulated even coaxiial lighting for TELECENTRIC MACRO lens and other type of lenses.

Major applications:

Inspection for highly reflective surfaces, such as wafers, metal surfaces, film, liquid crystals and glass.
Imprint check.
Inspection of pattern of printed boards.

Illumination
Diffused Axial Light;
3AM
OD46X33-ID28X26
Download
12V
132g
2.4W
Infra-Red (940nm)
GL-IFV34W-24

Coaxial Series Features:

Coaxial lights are mainly designed for objects with highly reflective surfaces.
Allowing to produce simulated even coaxiial lighting for TELECENTRIC MACRO lens and other type of lenses.

Major applications:

Inspection for highly reflective surfaces, such as wafers, metal surfaces, film, liquid crystals and glass.
Imprint check.
Inspection of pattern of printed boards.

Illumination
Diffused Axial Light;
3AM
OD46X33-ID28X26
Download
24V
132g
3.9W
White
GL-IFV34B-24

Coaxial Series Features:

Coaxial lights are mainly designed for objects with highly reflective surfaces.
Allowing to produce simulated even coaxiial lighting for TELECENTRIC MACRO lens and other type of lenses.

Major applications:

Inspection for highly reflective surfaces, such as wafers, metal surfaces, film, liquid crystals and glass.
Imprint check.
Inspection of pattern of printed boards.

Illumination
Diffused Axial Light;
3AM
OD46X33-ID28X26
Download
24V
132g
3.9W
Blue
GL-IFV34G-24

Coaxial Series Features:

Coaxial lights are mainly designed for objects with highly reflective surfaces.
Allowing to produce simulated even coaxiial lighting for TELECENTRIC MACRO lens and other type of lenses.

Major applications:

Inspection for highly reflective surfaces, such as wafers, metal surfaces, film, liquid crystals and glass.
Imprint check.
Inspection of pattern of printed boards.

Illumination
Diffused Axial Light;
3AM
OD46X33-ID28X26
Download
24V
132g
3.9W
Green
GL-IFV40R

Coaxial Series Features:

Coaxial lights are mainly designed for objects with highly reflective surfaces.
Allowing to produce simulated even coaxiial lighting for TELECENTRIC MACRO lens and other type of lenses.

Major applications:

Inspection for highly reflective surfaces, such as wafers, metal surfaces, film, liquid crystals and glass.
Imprint check.
Inspection of pattern of printed boards.

Illumination
Diffused Axial Light;
3AM
OD50X75-ID32X32
Download
12V
184g
2.9W
Red
GL-IFV40W

Coaxial Series Features:

Coaxial lights are mainly designed for objects with highly reflective surfaces.
Allowing to produce simulated even coaxiial lighting for TELECENTRIC MACRO lens and other type of lenses.

Major applications:

Inspection for highly reflective surfaces, such as wafers, metal surfaces, film, liquid crystals and glass.
Imprint check.
Inspection of pattern of printed boards.

Illumination
Diffused Axial Light;
3AM
OD50X75-ID32X32
Download
12V
184g
4.4W
White
GL-IFV40B

Coaxial Series Features:

Coaxial lights are mainly designed for objects with highly reflective surfaces.
Allowing to produce simulated even coaxiial lighting for TELECENTRIC MACRO lens and other type of lenses.

Major applications:

Inspection for highly reflective surfaces, such as wafers, metal surfaces, film, liquid crystals and glass.
Imprint check.
Inspection of pattern of printed boards.

Illumination
Diffused Axial Light;
3AM
OD50X75-ID32X32
Download
12V
184g
4.4W
Blue
GL-IFV40G

Coaxial Series Features:

Coaxial lights are mainly designed for objects with highly reflective surfaces.
Allowing to produce simulated even coaxiial lighting for TELECENTRIC MACRO lens and other type of lenses.

Major applications:

Inspection for highly reflective surfaces, such as wafers, metal surfaces, film, liquid crystals and glass.
Imprint check.
Inspection of pattern of printed boards.

Illumination
Diffused Axial Light;
3AM
OD50X75-ID32X32
Download
12V
184g
4.4W
Green
GL-IFV40IR

Coaxial Series Features:

Coaxial lights are mainly designed for objects with highly reflective surfaces.
Allowing to produce simulated even coaxiial lighting for TELECENTRIC MACRO lens and other type of lenses.

Major applications:

Inspection for highly reflective surfaces, such as wafers, metal surfaces, film, liquid crystals and glass.
Imprint check.
Inspection of pattern of printed boards.

Illumination
Diffused Axial Light;
3AM
OD50X75-ID32X32
Download
12V
184g
2.9W
Infra-Red (850nm)
GL-IFV40IR940

Coaxial Series Features:

Coaxial lights are mainly designed for objects with highly reflective surfaces.
Allowing to produce simulated even coaxiial lighting for TELECENTRIC MACRO lens and other type of lenses.

Major applications:

Inspection for highly reflective surfaces, such as wafers, metal surfaces, film, liquid crystals and glass.
Imprint check.
Inspection of pattern of printed boards.

Illumination
Diffused Axial Light;
3AM
OD50X75-ID32X32
Download
12V
184g
2.9W
Infra-Red (940nm)
GL-IFV50R

Coaxial Series Features:

Coaxial lights are mainly designed for objects with highly reflective surfaces.
Allowing to produce simulated even coaxiial lighting for TELECENTRIC MACRO lens and other type of lenses.

Major applications:

Inspection for highly reflective surfaces, such as wafers, metal surfaces, film, liquid crystals and glass.
Imprint check.
Inspection of pattern of printed boards.

Illumination
Diffused Axial Light;
3AM
OD60X93-ID36X36
Download
12V
260g
5.8W
Red
GL-IFV50W

Coaxial Series Features:

Coaxial lights are mainly designed for objects with highly reflective surfaces.
Allowing to produce simulated even coaxiial lighting for TELECENTRIC MACRO lens and other type of lenses.

Major applications:

Inspection for highly reflective surfaces, such as wafers, metal surfaces, film, liquid crystals and glass.
Imprint check.
Inspection of pattern of printed boards.

Illumination
Diffused Axial Light;
3AM
OD60X93-ID36X36
Download
12V
260g
8.7W
White
GL-IFV50B

Coaxial Series Features:

Coaxial lights are mainly designed for objects with highly reflective surfaces.
Allowing to produce simulated even coaxiial lighting for TELECENTRIC MACRO lens and other type of lenses.

Major applications:

Inspection for highly reflective surfaces, such as wafers, metal surfaces, film, liquid crystals and glass.
Imprint check.
Inspection of pattern of printed boards.

Illumination
Diffused Axial Light;
3AM
OD60X93-ID36X36
Download
12V
260g
8.7W
Blue
GL-IFV50G

Coaxial Series Features:

Coaxial lights are mainly designed for objects with highly reflective surfaces.
Allowing to produce simulated even coaxiial lighting for TELECENTRIC MACRO lens and other type of lenses.

Major applications:

Inspection for highly reflective surfaces, such as wafers, metal surfaces, film, liquid crystals and glass.
Imprint check.
Inspection of pattern of printed boards.

Illumination
Diffused Axial Light;
3AM
OD60X93-ID36X36
Download
12V
260g
8.7W
Green
GL-IFV50IR

Coaxial Series Features:

Coaxial lights are mainly designed for objects with highly reflective surfaces.
Allowing to produce simulated even coaxiial lighting for TELECENTRIC MACRO lens and other type of lenses.

Major applications:

Inspection for highly reflective surfaces, such as wafers, metal surfaces, film, liquid crystals and glass.
Imprint check.
Inspection of pattern of printed boards.

Illumination
Diffused Axial Light;
3AM
OD60X93-ID36X36
Download
12V
260g
5.8W
Infra-Red (850nm)
GL-IFV50IR940

Coaxial Series Features:

Coaxial lights are mainly designed for objects with highly reflective surfaces.
Allowing to produce simulated even coaxiial lighting for TELECENTRIC MACRO lens and other type of lenses.

Major applications:

Inspection for highly reflective surfaces, such as wafers, metal surfaces, film, liquid crystals and glass.
Imprint check.
Inspection of pattern of printed boards.

Illumination
Diffused Axial Light;
3AM
OD60X93-ID36X36
Download
12V
260g
5.8W
Infra-Red (940nm)
GL-IFV70SW

Coaxial Series Features:

Coaxial lights are mainly designed for objects with highly reflective surfaces.
Allowing to produce simulated even coaxiial lighting for TELECENTRIC MACRO lens and other type of lenses.

Major applications:

Inspection for highly reflective surfaces, such as wafers, metal surfaces, film, liquid crystals and glass.
Imprint check.
Inspection of pattern of printed boards.

Illumination
Diffused Axial Light;
3AM
Download
12V
580g
2.2W
White
GL-IFV70SB

Coaxial Series Features:

Coaxial lights are mainly designed for objects with highly reflective surfaces.
Allowing to produce simulated even coaxiial lighting for TELECENTRIC MACRO lens and other type of lenses.

Major applications:

Inspection for highly reflective surfaces, such as wafers, metal surfaces, film, liquid crystals and glass.
Imprint check.
Inspection of pattern of printed boards.

Illumination
Diffused Axial Light;
3AM
Download
12V
580g
2.2W
Blue
GL-IFV70SG

Coaxial Series Features:

Coaxial lights are mainly designed for objects with highly reflective surfaces.
Allowing to produce simulated even coaxiial lighting for TELECENTRIC MACRO lens and other type of lenses.

Major applications:

Inspection for highly reflective surfaces, such as wafers, metal surfaces, film, liquid crystals and glass.
Imprint check.
Inspection of pattern of printed boards.

Illumination
Diffused Axial Light;
3AM
Download
12V
580g
2.2W
Green
GL-IFV70R

Coaxial Series Features:

Coaxial lights are mainly designed for objects with highly reflective surfaces.
Allowing to produce simulated even coaxiial lighting for TELECENTRIC MACRO lens and other type of lenses.

Major applications:

Inspection for highly reflective surfaces, such as wafers, metal surfaces, film, liquid crystals and glass.
Imprint check.
Inspection of pattern of printed boards.

Illumination
Diffused Axial Light;
3AM
OD84X120-ID55X55
Download
12V
580g
12.3W
Red
GL-IFV70W

Coaxial Series Features:

Coaxial lights are mainly designed for objects with highly reflective surfaces.
Allowing to produce simulated even coaxiial lighting for TELECENTRIC MACRO lens and other type of lenses.

Major applications:

Inspection for highly reflective surfaces, such as wafers, metal surfaces, film, liquid crystals and glass.
Imprint check.
Inspection of pattern of printed boards.

Illumination
Diffused Axial Light;
3AM
OD84X120-ID55X55
Download
12V
580g
18.3W
White
GL-IFV70B

Coaxial Series Features:

Coaxial lights are mainly designed for objects with highly reflective surfaces.
Allowing to produce simulated even coaxiial lighting for TELECENTRIC MACRO lens and other type of lenses.

Major applications:

Inspection for highly reflective surfaces, such as wafers, metal surfaces, film, liquid crystals and glass.
Imprint check.
Inspection of pattern of printed boards.

Illumination
Diffused Axial Light;
3AM
OD84X120-ID55X55
Download
12V
580g
18.3W
Blue
GL-IFV70G

Coaxial Series Features:

Coaxial lights are mainly designed for objects with highly reflective surfaces.
Allowing to produce simulated even coaxiial lighting for TELECENTRIC MACRO lens and other type of lenses.

Major applications:

Inspection for highly reflective surfaces, such as wafers, metal surfaces, film, liquid crystals and glass.
Imprint check.
Inspection of pattern of printed boards.

Illumination
Diffused Axial Light;
3AM
OD84X120-ID55X55
Download
12V
580g
18.3W
Green
GL-IFV70IR

Coaxial Series Features:

Coaxial lights are mainly designed for objects with highly reflective surfaces.
Allowing to produce simulated even coaxiial lighting for TELECENTRIC MACRO lens and other type of lenses.

Major applications:

Inspection for highly reflective surfaces, such as wafers, metal surfaces, film, liquid crystals and glass.
Imprint check.
Inspection of pattern of printed boards.

Illumination
Diffused Axial Light;
3AM
OD84X120-ID55X55
Download
12V
580g
12.3W
Infra-Red (850nm)
GL-IFV70IR940

Coaxial Series Features:

Coaxial lights are mainly designed for objects with highly reflective surfaces.
Allowing to produce simulated even coaxiial lighting for TELECENTRIC MACRO lens and other type of lenses.

Major applications:

Inspection for highly reflective surfaces, such as wafers, metal surfaces, film, liquid crystals and glass.
Imprint check.
Inspection of pattern of printed boards.

Illumination
Diffused Axial Light;
3AM
OD84X120-ID55X55
Download
12V
580g
12.3W
Infra-Red (940nm)
GL-IFV20R-24

Coaxial Series Features:

Coaxial lights are mainly designed for objects with highly reflective surfaces.
Allowing to produce simulated even coaxiial lighting for TELECENTRIC MACRO lens and other type of lenses.

Major applications:

Inspection for highly reflective surfaces, such as wafers, metal surfaces, film, liquid crystals and glass.
Imprint check.
Inspection of pattern of printed boards.

Illumination
Diffused Axial Light;
3AM
OD30X55-ID24X20
Download
24V
82g
0.96W
Red
GL-IFV20W-24

Coaxial Series Features:

Coaxial lights are mainly designed for objects with highly reflective surfaces.
Allowing to produce simulated even coaxiial lighting for TELECENTRIC MACRO lens and other type of lenses.

Major applications:

Inspection for highly reflective surfaces, such as wafers, metal surfaces, film, liquid crystals and glass.
Imprint check.
Inspection of pattern of printed boards.

Illumination
Diffused Axial Light;
3AM
OD30X55-ID24X20
Download
24V
82g
1.44W
White
GL-IFV20B-24

Coaxial Series Features:

Coaxial lights are mainly designed for objects with highly reflective surfaces.
Allowing to produce simulated even coaxiial lighting for TELECENTRIC MACRO lens and other type of lenses.

Major applications:

Inspection for highly reflective surfaces, such as wafers, metal surfaces, film, liquid crystals and glass.
Imprint check.
Inspection of pattern of printed boards.

Illumination
Diffused Axial Light;
3AM
OD30X55-ID24X20
Download
24V
82g
1.44W
Blue
GL-IFV20G-24

Coaxial Series Features:

Coaxial lights are mainly designed for objects with highly reflective surfaces.
Allowing to produce simulated even coaxiial lighting for TELECENTRIC MACRO lens and other type of lenses.

Major applications:

Inspection for highly reflective surfaces, such as wafers, metal surfaces, film, liquid crystals and glass.
Imprint check.
Inspection of pattern of printed boards.

Illumination
Diffused Axial Light;
3AM
OD30X55-ID24X20
Download
24V
82g
1.44W
Green
GL-IFV20IR-24

Coaxial Series Features:

Coaxial lights are mainly designed for objects with highly reflective surfaces.
Allowing to produce simulated even coaxiial lighting for TELECENTRIC MACRO lens and other type of lenses.

Major applications:

Inspection for highly reflective surfaces, such as wafers, metal surfaces, film, liquid crystals and glass.
Imprint check.
Inspection of pattern of printed boards.

Illumination
Diffused Axial Light;
3AM
OD30X55-ID24X20
Download
24V
82g
0.96W
Infra-Red (850nm)
GL-IFV34R-24

Coaxial Series Features:

Coaxial lights are mainly designed for objects with highly reflective surfaces.
Allowing to produce simulated even coaxiial lighting for TELECENTRIC MACRO lens and other type of lenses.

Major applications:

Inspection for highly reflective surfaces, such as wafers, metal surfaces, film, liquid crystals and glass.
Imprint check.
Inspection of pattern of printed boards.

Illumination
Diffused Axial Light;
3AM
OD46X33-ID28X26
Download
24V
132g
2.4W
Red
GL-IFV40R-24

Coaxial Series Features:

Coaxial lights are mainly designed for objects with highly reflective surfaces.
Allowing to produce simulated even coaxiial lighting for TELECENTRIC MACRO lens and other type of lenses.

Major applications:

Inspection for highly reflective surfaces, such as wafers, metal surfaces, film, liquid crystals and glass.
Imprint check.
Inspection of pattern of printed boards.

Illumination
Diffused Axial Light;
3AM
OD50X75-ID32X32
Download
24V
184g
2.88W
Red
GL-IFV40W-24

Coaxial Series Features:

Coaxial lights are mainly designed for objects with highly reflective surfaces.
Allowing to produce simulated even coaxiial lighting for TELECENTRIC MACRO lens and other type of lenses.

Major applications:

Inspection for highly reflective surfaces, such as wafers, metal surfaces, film, liquid crystals and glass.
Imprint check.
Inspection of pattern of printed boards.

Illumination
Diffused Axial Light;
3AM
OD50X75-ID32X32
Download
24V
184g
4.32W
White
GL-IFV40B-24

Coaxial Series Features:

Coaxial lights are mainly designed for objects with highly reflective surfaces.
Allowing to produce simulated even coaxiial lighting for TELECENTRIC MACRO lens and other type of lenses.

Major applications:

Inspection for highly reflective surfaces, such as wafers, metal surfaces, film, liquid crystals and glass.
Imprint check.
Inspection of pattern of printed boards.

Illumination
Diffused Axial Light;
3AM
OD50X75-ID32X32
Download
24V
184g
4.32W
Blue
GL-IFV40G-24

Coaxial Series Features:

Coaxial lights are mainly designed for objects with highly reflective surfaces.
Allowing to produce simulated even coaxiial lighting for TELECENTRIC MACRO lens and other type of lenses.

Major applications:

Inspection for highly reflective surfaces, such as wafers, metal surfaces, film, liquid crystals and glass.
Imprint check.
Inspection of pattern of printed boards.

Illumination
Diffused Axial Light;
3AM
OD50X75-ID32X32
Download
24V
184g
4.32W
Green
GL-IFV40IR-24

Coaxial Series Features:

Coaxial lights are mainly designed for objects with highly reflective surfaces.
Allowing to produce simulated even coaxiial lighting for TELECENTRIC MACRO lens and other type of lenses.

Major applications:

Inspection for highly reflective surfaces, such as wafers, metal surfaces, film, liquid crystals and glass.
Imprint check.
Inspection of pattern of printed boards.

Illumination
Diffused Axial Light;
3AM
OD50X75-ID32X32
Download
24V
184g
2.88W
Infra-Red (850nm)
GL-IFV50R-24

Coaxial Series Features:

Coaxial lights are mainly designed for objects with highly reflective surfaces.
Allowing to produce simulated even coaxiial lighting for TELECENTRIC MACRO lens and other type of lenses.

Major applications:

Inspection for highly reflective surfaces, such as wafers, metal surfaces, film, liquid crystals and glass.
Imprint check.
Inspection of pattern of printed boards.

Illumination
Diffused Axial Light;
3AM
OD60X93-ID36X36
Download
24V
260g
5.76W
Red
GL-IFV50W-24

Coaxial Series Features:

Coaxial lights are mainly designed for objects with highly reflective surfaces.
Allowing to produce simulated even coaxiial lighting for TELECENTRIC MACRO lens and other type of lenses.

Major applications:

Inspection for highly reflective surfaces, such as wafers, metal surfaces, film, liquid crystals and glass.
Imprint check.
Inspection of pattern of printed boards.

Illumination
Diffused Axial Light;
3AM
OD60X93-ID36X36
Download
24V
260g
8.64W
White
GL-IFV50B-24

Coaxial Series Features:

Coaxial lights are mainly designed for objects with highly reflective surfaces.
Allowing to produce simulated even coaxiial lighting for TELECENTRIC MACRO lens and other type of lenses.

Major applications:

Inspection for highly reflective surfaces, such as wafers, metal surfaces, film, liquid crystals and glass.
Imprint check.
Inspection of pattern of printed boards.

Illumination
Diffused Axial Light;
3AM
OD60X93-ID36X36
Download
24V
260g
8.64W
Blue
GL-IFV50G-24

Coaxial Series Features:

Coaxial lights are mainly designed for objects with highly reflective surfaces.
Allowing to produce simulated even coaxiial lighting for TELECENTRIC MACRO lens and other type of lenses.

Major applications:

Inspection for highly reflective surfaces, such as wafers, metal surfaces, film, liquid crystals and glass.
Imprint check.
Inspection of pattern of printed boards.

Illumination
Diffused Axial Light;
3AM
OD60X93-ID36X36
Download
24V
260g
8.64W
Green
GL-IFV50IR-24

Coaxial Series Features:

Coaxial lights are mainly designed for objects with highly reflective surfaces.
Allowing to produce simulated even coaxiial lighting for TELECENTRIC MACRO lens and other type of lenses.

Major applications:

Inspection for highly reflective surfaces, such as wafers, metal surfaces, film, liquid crystals and glass.
Imprint check.
Inspection of pattern of printed boards.

Illumination
Diffused Axial Light;
3AM
OD60X93-ID36X36
Download
24V
260g
5.76W
Infra-Red (850nm)
GL-IFV70R-24

Coaxial Series Features:

Coaxial lights are mainly designed for objects with highly reflective surfaces.
Allowing to produce simulated even coaxiial lighting for TELECENTRIC MACRO lens and other type of lenses.

Major applications:

Inspection for highly reflective surfaces, such as wafers, metal surfaces, film, liquid crystals and glass.
Imprint check.
Inspection of pattern of printed boards.

Illumination
Diffused Axial Light;
3AM
OD84X120-ID55X55
Download
24V
580g
11.52W
Red
GL-IFV70W-24

Coaxial Series Features:

Coaxial lights are mainly designed for objects with highly reflective surfaces.
Allowing to produce simulated even coaxiial lighting for TELECENTRIC MACRO lens and other type of lenses.

Major applications:

Inspection for highly reflective surfaces, such as wafers, metal surfaces, film, liquid crystals and glass.
Imprint check.
Inspection of pattern of printed boards.

Illumination
Diffused Axial Light;
3AM
OD84X120-ID55X55
Download
24V
580g
17.28W
White
GL-IFV70B-24

Coaxial Series Features:

Coaxial lights are mainly designed for objects with highly reflective surfaces.
Allowing to produce simulated even coaxiial lighting for TELECENTRIC MACRO lens and other type of lenses.

Major applications:

Inspection for highly reflective surfaces, such as wafers, metal surfaces, film, liquid crystals and glass.
Imprint check.
Inspection of pattern of printed boards.

Illumination
Diffused Axial Light;
3AM
OD84X120-ID55X55
Download
24V
580g
17.28W
Blue
GL-IFV70G-24

Coaxial Series Features:

Coaxial lights are mainly designed for objects with highly reflective surfaces.
Allowing to produce simulated even coaxiial lighting for TELECENTRIC MACRO lens and other type of lenses.

Major applications:

Inspection for highly reflective surfaces, such as wafers, metal surfaces, film, liquid crystals and glass.
Imprint check.
Inspection of pattern of printed boards.

Illumination
Diffused Axial Light;
3AM
OD84X120-ID55X55
Download
24V
580g
17.28W
Green
GL-IFV70IR-24

Coaxial Series Features:

Coaxial lights are mainly designed for objects with highly reflective surfaces.
Allowing to produce simulated even coaxiial lighting for TELECENTRIC MACRO lens and other type of lenses.

Major applications:

Inspection for highly reflective surfaces, such as wafers, metal surfaces, film, liquid crystals and glass.
Imprint check.
Inspection of pattern of printed boards.

Illumination
Diffused Axial Light;
3AM
OD84X120-ID55X55
Download
24V
580g
11.52W
Infra-Red (850nm)
GL-IFV100R

Coaxial Series Features:

Coaxial lights are mainly designed for objects with highly reflective surfaces.
Allowing to produce simulated even coaxiial lighting for TELECENTRIC MACRO lens and other type of lenses.

Major applications:

Inspection for highly reflective surfaces, such as wafers, metal surfaces, film, liquid crystals and glass.
Imprint check.
Inspection of pattern of printed boards.

Illumination
Diffused Axial Light;
3AM
OD110X148-ID80X80
Download
12V
885g
23.1W
Red
GL-IFV100W

Coaxial Series Features:

Coaxial lights are mainly designed for objects with highly reflective surfaces.
Allowing to produce simulated even coaxiial lighting for TELECENTRIC MACRO lens and other type of lenses.

Major applications:

Inspection for highly reflective surfaces, such as wafers, metal surfaces, film, liquid crystals and glass.
Imprint check.
Inspection of pattern of printed boards.

Illumination
Diffused Axial Light;
3AM
OD110X148-ID80X80
Download
12V
885g
34.6W
White
GL-IFV100B

Coaxial Series Features:

Coaxial lights are mainly designed for objects with highly reflective surfaces.
Allowing to produce simulated even coaxiial lighting for TELECENTRIC MACRO lens and other type of lenses.

Major applications:

Inspection for highly reflective surfaces, such as wafers, metal surfaces, film, liquid crystals and glass.
Imprint check.
Inspection of pattern of printed boards.

Illumination
Diffused Axial Light;
3AM
OD110X148-ID80X80
Download
12V
885g
34.6W
Blue
GL-IFV100G

Coaxial Series Features:

Coaxial lights are mainly designed for objects with highly reflective surfaces.
Allowing to produce simulated even coaxiial lighting for TELECENTRIC MACRO lens and other type of lenses.

Major applications:

Inspection for highly reflective surfaces, such as wafers, metal surfaces, film, liquid crystals and glass.
Imprint check.
Inspection of pattern of printed boards.

Illumination
Diffused Axial Light;
3AM
OD110X148-ID80X80
Download
12V
885g
34.6W
Green
GL-IFV100IR

Coaxial Series Features:

Coaxial lights are mainly designed for objects with highly reflective surfaces.
Allowing to produce simulated even coaxiial lighting for TELECENTRIC MACRO lens and other type of lenses.

Major applications:

Inspection for highly reflective surfaces, such as wafers, metal surfaces, film, liquid crystals and glass.
Imprint check.
Inspection of pattern of printed boards.

Illumination
Diffused Axial Light;
3AM
OD110X148-ID80X80
Download
12V
885g
23.1W
Infra-Red (850nm)
GL-IFV100R-24

Coaxial Series Features:

Coaxial lights are mainly designed for objects with highly reflective surfaces.
Allowing to produce simulated even coaxiial lighting for TELECENTRIC MACRO lens and other type of lenses.

Major applications:

Inspection for highly reflective surfaces, such as wafers, metal surfaces, film, liquid crystals and glass.
Imprint check.
Inspection of pattern of printed boards.

Illumination
Diffused Axial Light;
3AM
OD110X148-ID80X80
Download
24V
885g
23.04W
Red
GL-IFV100W-24

Coaxial Series Features:

Coaxial lights are mainly designed for objects with highly reflective surfaces.
Allowing to produce simulated even coaxiial lighting for TELECENTRIC MACRO lens and other type of lenses.

Major applications:

Inspection for highly reflective surfaces, such as wafers, metal surfaces, film, liquid crystals and glass.
Imprint check.
Inspection of pattern of printed boards.

Illumination
Diffused Axial Light;
3AM
OD110X148-ID80X80
Download
24V
885g
34.56W
White
GL-IFV100B-24

Coaxial Series Features:

Coaxial lights are mainly designed for objects with highly reflective surfaces.
Allowing to produce simulated even coaxiial lighting for TELECENTRIC MACRO lens and other type of lenses.

Major applications:

Inspection for highly reflective surfaces, such as wafers, metal surfaces, film, liquid crystals and glass.
Imprint check.
Inspection of pattern of printed boards.

Illumination
Diffused Axial Light;
3AM
OD110X148-ID80X80
Download
24V
885g
34.56W
Blue
GL-IFV100G-24

Coaxial Series Features:

Coaxial lights are mainly designed for objects with highly reflective surfaces.
Allowing to produce simulated even coaxiial lighting for TELECENTRIC MACRO lens and other type of lenses.

Major applications:

Inspection for highly reflective surfaces, such as wafers, metal surfaces, film, liquid crystals and glass.
Imprint check.
Inspection of pattern of printed boards.

Illumination
Diffused Axial Light;
3AM
OD110X148-ID80X80
Download
24V
885g
34.56W
Green
GL-IFV100IR-24

Coaxial Series Features:

Coaxial lights are mainly designed for objects with highly reflective surfaces.
Allowing to produce simulated even coaxiial lighting for TELECENTRIC MACRO lens and other type of lenses.

Major applications:

Inspection for highly reflective surfaces, such as wafers, metal surfaces, film, liquid crystals and glass.
Imprint check.
Inspection of pattern of printed boards.

Illumination
Diffused Axial Light;
3AM
OD110X148-ID80X80
Download
24V
885g
23.04W
Infra-Red (850nm)
GL-IFV130R

Coaxial Series Features:

Coaxial lights are mainly designed for objects with highly reflective surfaces.
Allowing to produce simulated even coaxiial lighting for TELECENTRIC MACRO lens and other type of lenses.

Major applications:

Inspection for highly reflective surfaces, such as wafers, metal surfaces, film, liquid crystals and glass.
Imprint check.
Inspection of pattern of printed boards.

Illumination
Diffused Axial Light;
3AM
OD142X182-ID105X105
Download
12V
1420g
40.8W
Red
GL-IFV130W

Coaxial Series Features:

Coaxial lights are mainly designed for objects with highly reflective surfaces.
Allowing to produce simulated even coaxiial lighting for TELECENTRIC MACRO lens and other type of lenses.

Major applications:

Inspection for highly reflective surfaces, such as wafers, metal surfaces, film, liquid crystals and glass.
Imprint check.
Inspection of pattern of printed boards.

Illumination
Diffused Axial Light;
3AM
OD142X182-ID105X105
Download
12V
1420g
61.5W
White
GL-IFV130B

Coaxial Series Features:

Coaxial lights are mainly designed for objects with highly reflective surfaces.
Allowing to produce simulated even coaxiial lighting for TELECENTRIC MACRO lens and other type of lenses.

Major applications:

Inspection for highly reflective surfaces, such as wafers, metal surfaces, film, liquid crystals and glass.
Imprint check.
Inspection of pattern of printed boards.

Illumination
Diffused Axial Light;
3AM
OD142X182-ID105X105
Download
12V
1420g
61.5W
Blue
GL-IFV130G

Coaxial Series Features:

Coaxial lights are mainly designed for objects with highly reflective surfaces.
Allowing to produce simulated even coaxiial lighting for TELECENTRIC MACRO lens and other type of lenses.

Major applications:

Inspection for highly reflective surfaces, such as wafers, metal surfaces, film, liquid crystals and glass.
Imprint check.
Inspection of pattern of printed boards.

Illumination
Diffused Axial Light;
3AM
OD142X182-ID105X105
Download
12V
1420g
61.5W
Green
GL-IFV130IR

Coaxial Series Features:

Coaxial lights are mainly designed for objects with highly reflective surfaces.
Allowing to produce simulated even coaxiial lighting for TELECENTRIC MACRO lens and other type of lenses.

Major applications:

Inspection for highly reflective surfaces, such as wafers, metal surfaces, film, liquid crystals and glass.
Imprint check.
Inspection of pattern of printed boards.

Illumination
Diffused Axial Light;
3AM
OD142X182-ID105X105
Download
12V
1420g
40.8W
Infra-Red (850nm)
GL-IFV130R-24

Coaxial Series Features:

Coaxial lights are mainly designed for objects with highly reflective surfaces.
Allowing to produce simulated even coaxiial lighting for TELECENTRIC MACRO lens and other type of lenses.

Major applications:

Inspection for highly reflective surfaces, such as wafers, metal surfaces, film, liquid crystals and glass.
Imprint check.
Inspection of pattern of printed boards.

Illumination
Diffused Axial Light;
3AM
OD142X182-ID105X105
Download
24V
1420g
40.8W
Red
GL-IFV130W-24

Coaxial Series Features:

Coaxial lights are mainly designed for objects with highly reflective surfaces.
Allowing to produce simulated even coaxiial lighting for TELECENTRIC MACRO lens and other type of lenses.

Major applications:

Inspection for highly reflective surfaces, such as wafers, metal surfaces, film, liquid crystals and glass.
Imprint check.
Inspection of pattern of printed boards.

Illumination
Diffused Axial Light;
3AM
OD142X182-ID105X105
Download
24V
1420g
61.5W
White
GL-IFV130B-24

Coaxial Series Features:

Coaxial lights are mainly designed for objects with highly reflective surfaces.
Allowing to produce simulated even coaxiial lighting for TELECENTRIC MACRO lens and other type of lenses.

Major applications:

Inspection for highly reflective surfaces, such as wafers, metal surfaces, film, liquid crystals and glass.
Imprint check.
Inspection of pattern of printed boards.

Illumination
Diffused Axial Light;
3AM
OD142X182-ID105X105
Download
24V
1420g
61.5W
Blue
GL-IFV130G-24

Coaxial Series Features:

Coaxial lights are mainly designed for objects with highly reflective surfaces.
Allowing to produce simulated even coaxiial lighting for TELECENTRIC MACRO lens and other type of lenses.

Major applications:

Inspection for highly reflective surfaces, such as wafers, metal surfaces, film, liquid crystals and glass.
Imprint check.
Inspection of pattern of printed boards.

Illumination
Diffused Axial Light;
3AM
OD142X182-ID105X105
Download
24V
1420g
61.5W
Green
GL-IFV130IR-24

Coaxial Series Features:

Coaxial lights are mainly designed for objects with highly reflective surfaces.
Allowing to produce simulated even coaxiial lighting for TELECENTRIC MACRO lens and other type of lenses.

Major applications:

Inspection for highly reflective surfaces, such as wafers, metal surfaces, film, liquid crystals and glass.
Imprint check.
Inspection of pattern of printed boards.

Illumination
Diffused Axial Light;
3AM
OD142X182-ID105X105
Download
24V
1420g
40.8W
Infra-Red (850nm)
GL-IFV200R

Coaxial Series Features:

Coaxial lights are mainly designed for objects with highly reflective surfaces.
Allowing to produce simulated even coaxiial lighting for TELECENTRIC MACRO lens and other type of lenses.

Major applications:

Inspection for highly reflective surfaces, such as wafers, metal surfaces, film, liquid crystals and glass.
Imprint check.
Inspection of pattern of printed boards.

Illumination
Diffused Axial Light;
3AM
OD230X270-ID160X150
Download
12V
57.6W
Red
GL-IFV200W

Coaxial Series Features:

Coaxial lights are mainly designed for objects with highly reflective surfaces.
Allowing to produce simulated even coaxiial lighting for TELECENTRIC MACRO lens and other type of lenses.

Major applications:

Inspection for highly reflective surfaces, such as wafers, metal surfaces, film, liquid crystals and glass.
Imprint check.
Inspection of pattern of printed boards.

Illumination
Diffused Axial Light;
3AM
OD230X270-ID160X150
Download
12V
86.4W
White
GL-IFV200B

Coaxial Series Features:

Coaxial lights are mainly designed for objects with highly reflective surfaces.
Allowing to produce simulated even coaxiial lighting for TELECENTRIC MACRO lens and other type of lenses.

Major applications:

Inspection for highly reflective surfaces, such as wafers, metal surfaces, film, liquid crystals and glass.
Imprint check.
Inspection of pattern of printed boards.

Illumination
Diffused Axial Light;
3AM
OD230X270-ID160X150
Download
12V
86.4W
Blue
GL-IFV200G

Coaxial Series Features:

Coaxial lights are mainly designed for objects with highly reflective surfaces.
Allowing to produce simulated even coaxiial lighting for TELECENTRIC MACRO lens and other type of lenses.

Major applications:

Inspection for highly reflective surfaces, such as wafers, metal surfaces, film, liquid crystals and glass.
Imprint check.
Inspection of pattern of printed boards.

Illumination
Diffused Axial Light;
3AM
OD230X270-ID160X150
Download
12V
86.4W
Green
GL-IFV200IR

Coaxial Series Features:

Coaxial lights are mainly designed for objects with highly reflective surfaces.
Allowing to produce simulated even coaxiial lighting for TELECENTRIC MACRO lens and other type of lenses.

Major applications:

Inspection for highly reflective surfaces, such as wafers, metal surfaces, film, liquid crystals and glass.
Imprint check.
Inspection of pattern of printed boards.

Illumination
Diffused Axial Light;
3AM
OD230X270-ID160X150
Download
12V
57.6W
Infra-Red (850nm)
GL-IFV200R-24

Coaxial Series Features:

Coaxial lights are mainly designed for objects with highly reflective surfaces.
Allowing to produce simulated even coaxiial lighting for TELECENTRIC MACRO lens and other type of lenses.

Major applications:

Inspection for highly reflective surfaces, such as wafers, metal surfaces, film, liquid crystals and glass.
Imprint check.
Inspection of pattern of printed boards.

Illumination
Diffused Axial Light;
3AM
OD230X270-ID160X150
Download
24V
57.6W
Red
GL-IFV200W-24

Coaxial Series Features:

Coaxial lights are mainly designed for objects with highly reflective surfaces.
Allowing to produce simulated even coaxiial lighting for TELECENTRIC MACRO lens and other type of lenses.

Major applications:

Inspection for highly reflective surfaces, such as wafers, metal surfaces, film, liquid crystals and glass.
Imprint check.
Inspection of pattern of printed boards.

Illumination
Diffused Axial Light;
3AM
OD230X270-ID160X150
Download
24V
86.4W
White
GL-IFV200B-24

Coaxial Series Features:

Coaxial lights are mainly designed for objects with highly reflective surfaces.
Allowing to produce simulated even coaxiial lighting for TELECENTRIC MACRO lens and other type of lenses.

Major applications:

Inspection for highly reflective surfaces, such as wafers, metal surfaces, film, liquid crystals and glass.
Imprint check.
Inspection of pattern of printed boards.

Illumination
Diffused Axial Light;
3AM
OD230X270-ID160X150
Download
24V
86.4W
Blue
GL-IFV200G-24

Coaxial Series Features:

Coaxial lights are mainly designed for objects with highly reflective surfaces.
Allowing to produce simulated even coaxiial lighting for TELECENTRIC MACRO lens and other type of lenses.

Major applications:

Inspection for highly reflective surfaces, such as wafers, metal surfaces, film, liquid crystals and glass.
Imprint check.
Inspection of pattern of printed boards.

Illumination
Diffused Axial Light;
3AM
OD230X270-ID160X150
Download
24V
86.4W
Green
GL-IFV200IR-24

Coaxial Series Features:

Coaxial lights are mainly designed for objects with highly reflective surfaces.
Allowing to produce simulated even coaxiial lighting for TELECENTRIC MACRO lens and other type of lenses.

Major applications:

Inspection for highly reflective surfaces, such as wafers, metal surfaces, film, liquid crystals and glass.
Imprint check.
Inspection of pattern of printed boards.

Illumination
Diffused Axial Light;
3AM
OD230X270-ID160X150
Download
24V
57.6W
Infra-Red (850nm)
GL-IFV34UV-24

Coaxial Series Features:

Coaxial lights are mainly designed for objects with highly reflective surfaces.
Allowing to produce simulated even coaxiial lighting for TELECENTRIC MACRO lens and other type of lenses.

Major applications:

Inspection for highly reflective surfaces, such as wafers, metal surfaces, film, liquid crystals and glass.
Imprint check.
Inspection of pattern of printed boards.

Illumination
Diffused Axial Light;
3AM
Download
24V
132g
4.8W
GL-IFV40UV365-24

Coaxial Series Features:

Coaxial lights are mainly designed for objects with highly reflective surfaces.
Allowing to produce simulated even coaxiial lighting for TELECENTRIC MACRO lens and other type of lenses.

Major applications:

Inspection for highly reflective surfaces, such as wafers, metal surfaces, film, liquid crystals and glass.
Imprint check.
Inspection of pattern of printed boards.

Illumination
Diffused Axial Light;
3AM
Download
24V
184g
3.9W
GL-IFV40UV-24

Coaxial Series Features:

Coaxial lights are mainly designed for objects with highly reflective surfaces.
Allowing to produce simulated even coaxiial lighting for TELECENTRIC MACRO lens and other type of lenses.

Major applications:

Inspection for highly reflective surfaces, such as wafers, metal surfaces, film, liquid crystals and glass.
Imprint check.
Inspection of pattern of printed boards.

Illumination
Diffused Axial Light;
3AM
Download
24V
184g
5.8W
GL-IFV2-20UV

Coaxial Series Features:

Coaxial lights are mainly designed for objects with highly reflective surfaces.
Allowing to produce simulated even coaxiial lighting for TELECENTRIC MACRO lens and other type of lenses.

Major applications:

Inspection for highly reflective surfaces, such as wafers, metal surfaces, film, liquid crystals and glass.
Imprint check.
Inspection of pattern of printed boards.

Illumination
Diffused Axial Light;
3AM
Download
12V
56g
1.7W
GL-IFV2-20UV395

Coaxial Series Features:

Coaxial lights are mainly designed for objects with highly reflective surfaces.
Allowing to produce simulated even coaxiial lighting for TELECENTRIC MACRO lens and other type of lenses.

Major applications:

Inspection for highly reflective surfaces, such as wafers, metal surfaces, film, liquid crystals and glass.
Imprint check.
Inspection of pattern of printed boards.

Illumination
Diffused Axial Light;
3AM
Download
12V
56g
1.7W
GL-IFV2-34UV

Coaxial Series Features:

Coaxial lights are mainly designed for objects with highly reflective surfaces.
Allowing to produce simulated even coaxiial lighting for TELECENTRIC MACRO lens and other type of lenses.

Major applications:

Inspection for highly reflective surfaces, such as wafers, metal surfaces, film, liquid crystals and glass.
Imprint check.
Inspection of pattern of printed boards.

Illumination
Diffused Axial Light;
3AM
Download
12V
150g
3.9W
GL-IFV2-34UV395

Coaxial Series Features:

Coaxial lights are mainly designed for objects with highly reflective surfaces.
Allowing to produce simulated even coaxiial lighting for TELECENTRIC MACRO lens and other type of lenses.

Major applications:

Inspection for highly reflective surfaces, such as wafers, metal surfaces, film, liquid crystals and glass.
Imprint check.
Inspection of pattern of printed boards.

Illumination
Diffused Axial Light;
3AM
Download
12V
150g
3.9W
GL-IFV2-34R

Coaxial Series Features:

Coaxial lights are mainly designed for objects with highly reflective surfaces.
Allowing to produce simulated even coaxiial lighting for TELECENTRIC MACRO lens and other type of lenses.

Major applications:

Inspection for highly reflective surfaces, such as wafers, metal surfaces, film, liquid crystals and glass.
Imprint check.
Inspection of pattern of printed boards.

Illumination
Diffused Axial Light;
3AM
OD46X63-ID28X26
Download
24V
146g
2.3W
Red
GL-IFV-34B

Coaxial Series Features:

Coaxial lights are mainly designed for objects with highly reflective surfaces.
Allowing to produce simulated even coaxiial lighting for TELECENTRIC MACRO lens and other type of lenses.

Major applications:

Inspection for highly reflective surfaces, such as wafers, metal surfaces, film, liquid crystals and glass.
Imprint check.
Inspection of pattern of printed boards.

Illumination
Diffused Axial Light;
3AM
OD46X63-ID28X28
Download
24V
146g
4.89W
Blue
GL-IFV-34G

Coaxial Series Features:

Coaxial lights are mainly designed for objects with highly reflective surfaces.
Allowing to produce simulated even coaxiial lighting for TELECENTRIC MACRO lens and other type of lenses.

Major applications:

Inspection for highly reflective surfaces, such as wafers, metal surfaces, film, liquid crystals and glass.
Imprint check.
Inspection of pattern of printed boards.

Illumination
Diffused Axial Light;
3AM
OD46X63-ID28X29
Download
24V
146g
4.89W
Green
GL-IFV-34IR

Coaxial Series Features:

Coaxial lights are mainly designed for objects with highly reflective surfaces.
Allowing to produce simulated even coaxiial lighting for TELECENTRIC MACRO lens and other type of lenses.

Major applications:

Inspection for highly reflective surfaces, such as wafers, metal surfaces, film, liquid crystals and glass.
Imprint check.
Inspection of pattern of printed boards.

Illumination
Diffused Axial Light;
3AM
OD46X63-ID28X30
Download
24V
146g
4.89W
Infra-Red (850nm)
GL-IFV-34W

Coaxial Series Features:

Coaxial lights are mainly designed for objects with highly reflective surfaces.
Allowing to produce simulated even coaxiial lighting for TELECENTRIC MACRO lens and other type of lenses.

Major applications:

Inspection for highly reflective surfaces, such as wafers, metal surfaces, film, liquid crystals and glass.
Imprint check.
Inspection of pattern of printed boards.

Illumination
Diffused Axial Light;
3AM
OD46X63-ID28X27
Download
24V
146g
4.89W
White