Camera Link Simulators
Camera Link simulators are high performance video test pattern generators that support all Camera Link configurations (base, medium, full) plus 80-bit modes. Fully programmable video timing enables the simulation of cameras with video clock rates up-to 85 MHz.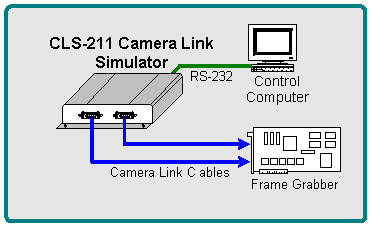 The simulators are controlled using a PC with a standard RS-232 serial port or connected to a PC USB port using an optional adapter. Control is achieved using a simple, straightforward, Command Line Interface (CLI). No special software is required. Configuration files are easily created.
The simulators are extremely useful for the development, test, and integration of Camera Link products and systems. An option for a miniature Camera Link (miniCL) connector widely used in Power over Camera Link (PoCL) applications is available making the simulators useful for testing PoCL cables and PoCL frame grabber SafePower functionality.
The simulators are housed in a sturdy aluminum enclosure.
Let us help you find the Camera Link simulator that best suits your needs!
Camera Link Simulators Products
| | Part # | Description | CATEGORY | SUB CATEGORY | MANUFACTURER | Datasheet | IF Side1 | IF Side2 | Freq range [MHz] | PoCL | USERMANUAL |
| --- | --- | --- | --- | --- | --- | --- | --- | --- | --- | --- | --- |
| | CLS-211 | The CLS-211 Camera Link Simulator is a highperformance video test pattern generator supporting all Camera Link configurations (base, medium, full). Fully programmable video timing enables the CLS-211 to mimic the characteristics of cameras with video clock rates up-to 85 MHz. | Accessories | CameraLink Simulators; | Vivid | Download | Camera Link | Camera Link | 20-85 | N | Download |
| | CLS-212 | | Accessories | CameraLink Simulators; | Vivid | Download | Camera Link | Camera Link | 20-85 | Y | Download |
| | CLS-211-N | The CLS-211 Camera Link Simulator is a highperformance video test pattern generator supporting all Camera Link configurations (base, medium, full). Fully programmable video timing enables the CLS-211 to mimic the characteristics of cameras with video clock rates up-to 85 MHz. | Accessories | CameraLink Simulators; | Vivid | Download | Camera Link | Camera Link | 20-85 | N | Download |
| | CLS-222 | The CLS-222 Camera Link PoCL Simulator is an affordable high-performance video test pattern generator supporting all Camera Link configura-tions (base, medium, full, 72-bit, 80-bit). The CLS-222 supports all Camera Link video formats in-cluding those introduced in the new Camera Link v2.1 specification. Fully programmable video tim-ing enables the CLS-222 to mimic the characteris-tics of almost any camera. New features include enhanced timing performance, bayer color support, and color bar & pseudo-random video patterns. Control is via an RS-232 port, USB, or frame grabber comm port. The CLS-222 also supports the AIA validation test pattern. The CLS-222 detects power and mimics PoCL camera characteristics at both connectors, supporting newer PoCL cameras. Connectors are the smaller SDR/HDR type typically used with PoCL devices. Very useful for the development and test both PoCL and non-PoCL frame grabbers or other acquisition devices, and easy to use with included quick-configuration software. | Accessories | CameraLink Simulators; | | Download | Camera Link | Camera Link | 10-95 | | |
| | CLS-221 | The CLS-221 Camera Link Simulator is an affordable high-performance video test pattern generator supporting all Camera Link configurations (base, medium, full, 72-bit, 80-bit). The CLS-221 supports all Camera Link video formats including those introduced in the new Camera Link v2.1 specification. Fully pro-grammable video timing enables the CLS-221 to mimic the char-acteristics of almost any camera. New features include enhanced timing performance, bayer color support, and col-or bar & pseudo-random video patterns. Control is via an RS-232 port, USB, or frame grabber comm port. The CLS-221 also supports the AIA validation test pattern. The CLS-221 connects to devices with the larger MDR connector via standard cables, and to devices with the smaller SDR/HDR connector via adapting cables. The CLS-221 Camera Link Simulator is very useful for the development and test of Camera Link components and systems, and is easy to use with included quick-configuration software. | Accessories | CameraLink Simulators; | | Download | Camera Link | Camera Link | 10-95 | | |