Laser Bar Code Scanners
Wide range of high performance laser scanners for industrial applications in the Electronic, Automotive, Pharma, Food&Beverage and Logistic applications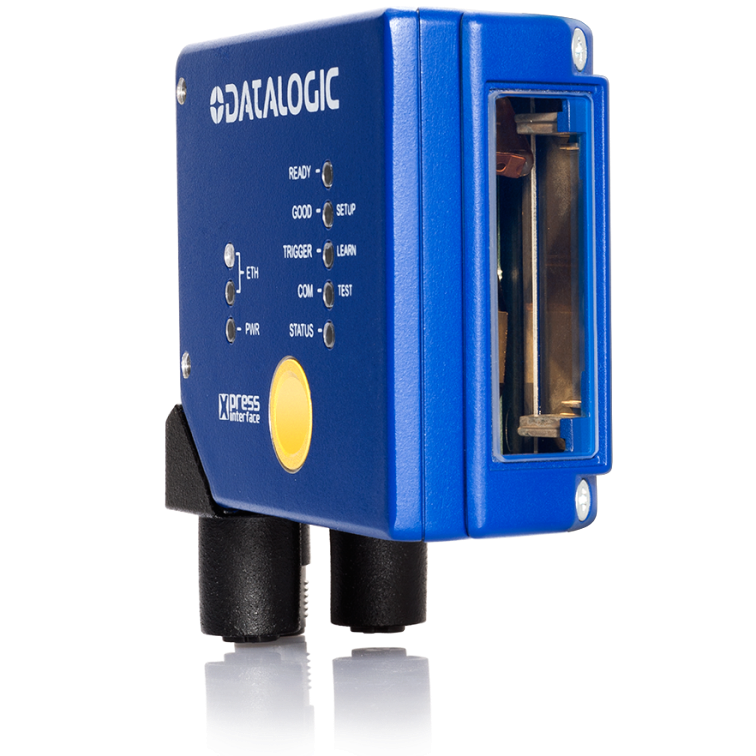 Laser barcode scanners are used to automate the identification process of products in a wide range of industrial applications such as reading medication barcodes to ensure patient safety, automated warehousing or grocery distribution.
1Vision offers a large selection of Datalogic's range of high performance laser barcode scanners suitable for use in manufacturing applications in the Retail, Electronic, Automotive, Pharma, Food and Beverage and Logistic industries.
Let us help you find the barcode scanner that is best for you!
Laser Bar Code Scanners Products
| | Part # | Description | CATEGORY | SUB CATEGORY | FrameRate [f/s] | Interface | MANUFACTURER | Size | Datasheet | Type | Frame_Rate_Range |
| --- | --- | --- | --- | --- | --- | --- | --- | --- | --- | --- | --- |
| | DS1100 | The DS100 embedded bar code reader is an ultra-compact cost-effective laser scanner characterized by very compact dimensions, motor on/off software commands, wide reading width at a short reading distance, lightweight <100 g, built-in RISC decoder, scanning speed of 500scans/sec, dual high speed serial interface, IP65 rugged industrial housing. | Barcode | Laser Bar Code Scanners Products; | 500 | Serial | datalogic | 80X50X22 | Download | Linear | f: 201~750 |
| | DS1500 | The combination of extremely compact dimensions and powerful high speed reading capabilities makes the DS1500 scanner ideal for demanding OEM applications. DS1500 miniaturization allows easy integration into OEM equipment and automatic machinery. The high scan rate and sophisticated electronic design effectively suits difficult reading conditions. | Barcode | Laser Bar Code Scanners Products; | 1200 | Serial | datalogic | 40X30X22 | Download | Linear | g: 750~ |
| | DS2200 | The DS2200 embedded bar code reader is an ultra-compact laser scanner with built-in decoder, 500scans/sec, reading distance from 50 to 220mm. | Barcode | Laser Bar Code Scanners Products; | 500 | Serial | datalogic | 50X40X28 | Download | Linear | f: 201~750 |
| | DS2100N | The new DS2100N industrial laser bar code reader leverages Datalogic Automation's 40-year tenure in 1D bar code reading, satisfying the demanding application needs of warehousing, shop floor and OEM applications. Equipped with limitless connectivity options including PROFINET, EtherNet/IP, and Ethernet TCP/IP communication protocols, the DS2100N is the optimal choice for short reading distances. | Barcode | Laser Bar Code Scanners Products; | 1000 | Profinet | datalogic | 104X69X38 | Download | Linear | g: 750~ |
| | DS2400N | The new DS2400N is the first-in-his-class laser bar code reader offering maximum connectivity freedom, better optic performance and ease to install in the most demanding applications including warehousing, shop floor and OEM machinery. DS2400N is optimum choice on short-medium reading distance and it is equipped with all connectivity options including PROFINET,EtherNet/IP, and Ethernet TCP/IP communication protocols. | Barcode | Laser Bar Code Scanners Products; | 1000 | Profinet | datalogic | 104X69X38 | Download | Linear | g: 750~ |
| | DS4800 | DS4800 is a flexible and compact laser scanner for industrial application, satisfying all main identification needs of your manufacturing plants. DS4800 features an excellent reading performance, ease of setup thanks to X-PRESS™interface, high-speed ID-NET™ communication interface and total immunity against ambient light. Smart Focus Adjustment optimizes reading performances based on reading distances using a single model. DS4800 series includes Subzero models (both Linear and Oscillating Mirror), extending operating temperature to -35°C +50°C by means of the smart internal heater and de-frost window. | Barcode | Laser Bar Code Scanners Products; | 1000 | Ethernet | datalogic | 117X123X48 | Download | Linear | g: 750~ |
| | DS8100A | The DS8100A industrial bar code reader is a high performance linear laser bar code reader designed to satisfy the needs of sorting applications in the Transportation & Logistics sector. With top-class reading performance and flexibility of use, the DS8100A is the standard reader for the most challenging applications. | Barcode | Laser Bar Code Scanners Products; | 1000 | Ethernet | datalogic | 280X254X195 | Download | Pallet scanning | g: 750~ |
| | DX8200A | The DX8200A is a high-performance X-pattern laser scanner capable of omnidirectional bar code reading that provides an economical and easily installed single scanner solution for Transportation and Logistics needs. The X-pattern design allows a single DX8200A do the work of two DS8100A's for many applications. Setup is thus quicker and simpler thanks to the precalibration built into the DX8200A. Connectivity to the most popular networks is assured with Profibus and Devicenet available in addition to Ethernet communications. | Barcode | Laser Bar Code Scanners Products; | 1000 | Ethernet | datalogic | 320X249X100 | Download | Omnidirectional | g: 750~ |
| | AXIOM | The AXIOM line of laser barcode readers is designed with industrial and manufacturing applications in mind. The AXIOM line scanners offer high-speed scanning and high reliability in a rugged industrial enclosure with a large depth of field that provides accurate barcode reading at distrances greater than 60 inches. | Barcode | Laser Bar Code Scanners Products; | | | datalogic | | | | |
| | AXIOM-X | The AXIOM-X omni-directional laser barcode reader is designed with industrial and manufacturing applications in mind. The AXIOM-X scanners offer high-speed scanning and high reliability in a rugged industrial enclosure with a large depth of field that provides accurate barcode reading at distances greater than 60 inches. | Barcode | Laser Bar Code Scanners Products; | | | datalogic | | | | |