StreamPix
Multiple camera digital video recording software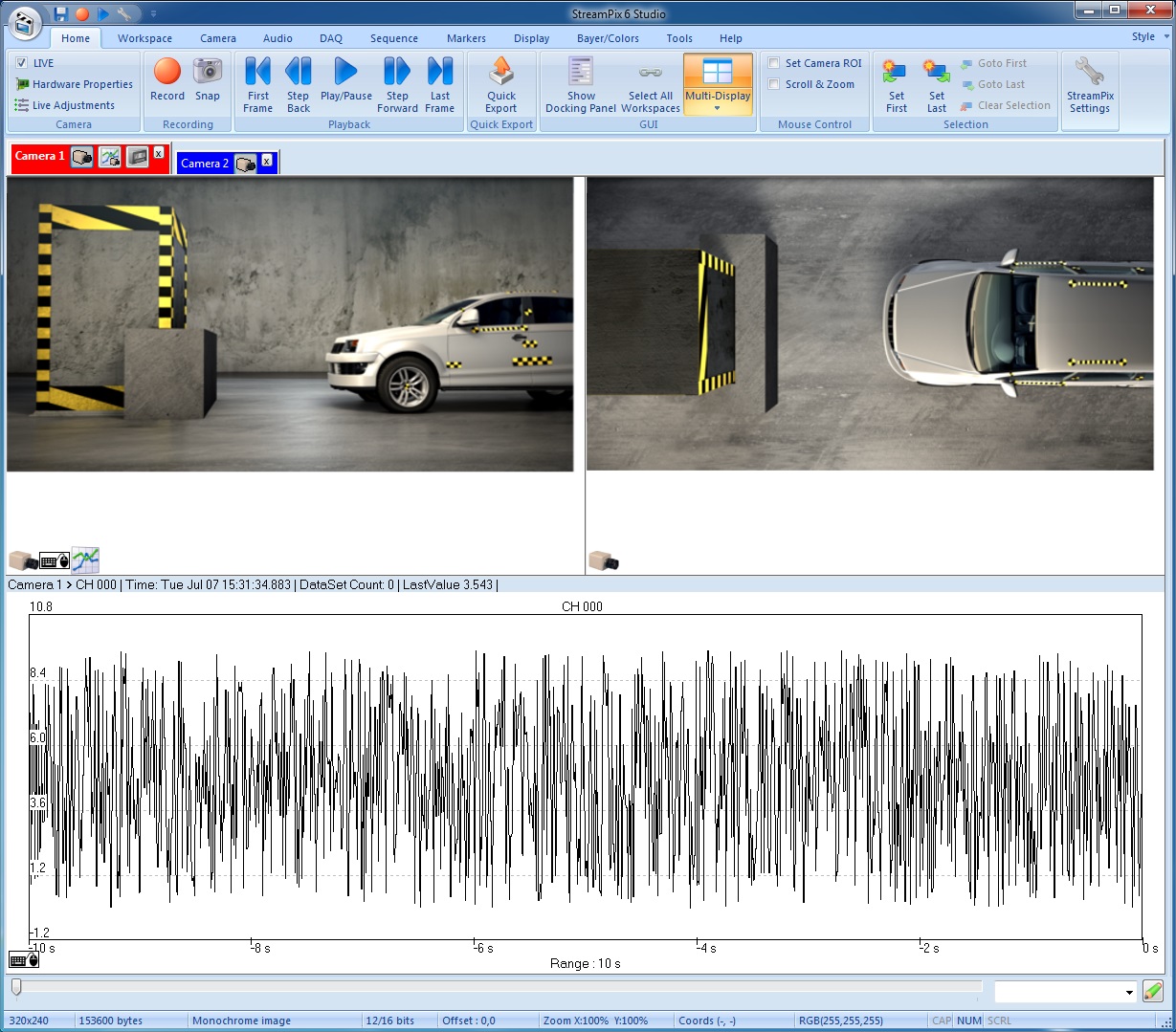 Features:
Three StreamPix versions available; Lite, Single full camera, Multiple camera.
Supports a wide selection of cameras and frame grabbers.
Free and Premium modules such as GPS, IrigB, Audio and multiple camera merging.
Compatible GigE Vision, USB3, 10 and 25 GigE Vision, Camera Link, CoaXPress, ONVIF, Firewire, Web IP, WDM and Fiber based.
State of the art customizable GUI.
Console for setup, control and acquisition.
Capture at up to 7.5 Gigabytes/second.
Continuous upgrade and software maintenance.
Tech support through email, phone and gotoassist.com.
Windows 7, 10 with 32 or 64 bit support.
Supports codecs such as JPEG, H.264, HEVC, M-JPEG, MPEG4, AAC and MP3.
Accelerated compression using NVIDIA CUDA GPU.
Multiple language support: German, Chinese Traditional and Simplified, Korean, Spanish and French.
Multicamera synchronized capture and synchronized playback.
Web Streamer: Stream cameras to the web.
StreamPix is NorPix's flagship software product. Resulting from more than 10 years of interaction with our vast group of customers, StreamPix has become the ultimate Digital Video Camera Recording software. It offers a state of the art user interface, and an enormous amount of usage flexibility for single or multiple camera recording.
With StreamPix, it is possible to view, control and acquire from multiple cameras simultaneously, all in the same user interface. StreamPix provides a complete management console for cameras, simplifying the setup, control and acquisition from any number and type of camera. The number of digital video cameras supported is only limited by a condition wherein the combined data rate of the cameras exceeds the internal bus bandwidth or processor capabilities of the computer.
Adding more capabilities to multiple camera StreamPix software is our daily routine at NorPix. Every month, we issue free software updates that include the latest developments, driver updates and optimizations. We are constantly listening to our customer base requests for improving our software and providing you with the best possible customer experience.
For more information about selecting the proper version of StreamPix based on your camera click here
Relevant Documents

 

(4192KB)