Varifocal
A varifocal lens is a camera lens with variable focal length where focus changes as focal length (and magnification) changes.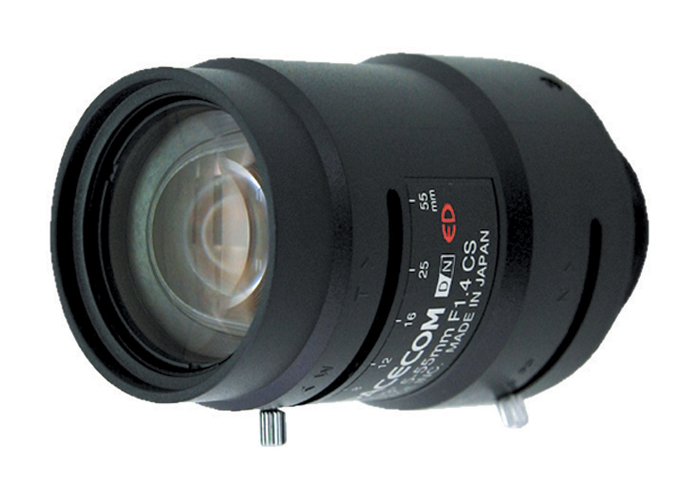 This allows you to get a better image of a smaller area from a greater distance. Vari-focal length is more cost effective compare to the manual zoom lens.
At 1Vision we offer a wide selection of vari-focal lenses, we can find you the vari-focal lens you need!
Find the Vari-focal you need
Using our advanced search engine you can define the following characteristics to locate the vari-focal lens most suited to your needs:
Varifocal Products
| | Part # | Description | CATEGORY | SUB CATEGORY | Resolution [MPixel] | Sensor Format | MANUFACTURER | Datasheet | Mount | Weight[g] | F# | MOD | Focus Type | Iris Type | Focal Length | Zoom Type | Opt. Mag. | Resolution_Range |
| --- | --- | --- | --- | --- | --- | --- | --- | --- | --- | --- | --- | --- | --- | --- | --- | --- | --- | --- |
| | TV1634M | | Optics | Varifocal; | | 1/3ʺ | Spacecom | Download | C | 98g | 1.4 | 0.2m | Manual | Manual | 1.6-3.4 | Manual | 2X | |
| | TV1634DC | | Optics | Varifocal; | | 1/3ʺ | Spacecom | Download | C | 105g | 1.4 | 0.2m | Manual | DC | 1.6-3.4 | Manual | 2X | |
| | TV555M | | Optics | Varifocal; | | 1/2ʺ | Spacecom | Download | C | 73g | 1.4 | 0.3-0.8m | Manual | Manual | 5-55 | Manual | 10X | |
| | TV555DC | | Optics | Varifocal; | | 1/2ʺ | Spacecom | Download | C | 93g | 1.4 | 0.3-0.8m | Manual | DC | 5-55 | Manual | 10X | |
| | TV555AI | | Optics | Varifocal; | | 1/3ʺ | Spacecom | | C | 103g | 1.4 | 0.3-0.8m | Manual | VIDEO | 5-55 | Manual | 10X | |
| | HV612M | | Optics | Varifocal; | | 1/2ʺ | Spacecom | Download | C | 80g | 1.4 | 0.25m | Manual | Manual | 6-12 | Manual | 2X | |
| | HV612DC | | Optics | Varifocal; | | 1/2ʺ | Spacecom | Download | C | 65g | 1.4 | 0.25m | Manual | DC | 6-12 | Manual | 2X | |
| | HV612AI | | Optics | Varifocal; | | 1/2ʺ | Spacecom | Download | C | 70g | 1.4 | 0.25m | Manual | VIDEO | 6-12 | Manual | 2X | |
| | YV2812RHD | VARIFOCAL LENS F1.3 (Class No.1) 3 Mega Pixel resolution | Optics | Varifocal; | ~3MP | 1/3ʺ | VS | Download | CS | 130g | 1.3 | 0.3m | Manual | DC | 2.8-12 | Manual | 4.2X | d: 2.5-4.5 |