LED Lighting controllers
1Vision offers a variety of LED lighting controllers. Available in either 1, 2, 4, 8 or 16 channel modules, these lighting controllers allow the user to precisely drive a LED light module on each channel. The controller range offers precise current control to ensure stable and repeatable illumination.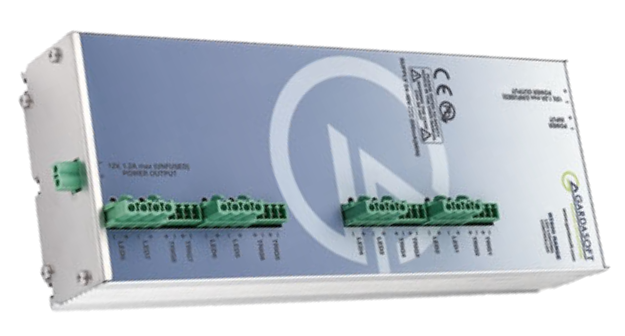 Each channel is controlled independently, providing either continuous output or strobing the light with timing control down to 1µS on selected models so fast moving objects can be 'frozen' when imaged. The LEDs can be overdriven and they are safely protected while optimizing the amount of light produced. Control is achieved using a push button interface on the controller with simple menu driven options or the controllers also have the option of RS232 or Ethernet communication, allowing remote control and easy integration into automated solutions. The new generation of controllers embrace the new SafePower® allowing much easier integration as any light can be driven and overdriven from a conventional 24vdc power supply.
Click here to identify which controller is best suited to your application .
Let us help you find the controller that best suits your needs!
LED Lighting controllers Products
| | Part # | Description | CATEGORY | SUB CATEGORY | MANUFACTURER | Size | Datasheet | Voltage | Temp. Range | Weight[g] | Power | Number of Channels | Environmental | Max Current Continuous | Max Current Pulsed | INTERFACING | Minimum Pulse Width (μS) | SafeSense | SafePower | USERMANUAL |
| --- | --- | --- | --- | --- | --- | --- | --- | --- | --- | --- | --- | --- | --- | --- | --- | --- | --- | --- | --- | --- |
| | RT200-20 | The RT range is Gardasoft's latest generation of LED lighting controller solutions for machine vision applications. Implementing our patented SafePower™ technology, installation is very easy, removing the need of having to use a bespoke DC power supply or heat sinking the controller. All RT models also include our SafeSense™ technology, which enables the safe overdriving of LEDs. To get the very best out of your LED lighting solution, in terms of brightness stability and control, lighting should be driven from a current source, not a nominal voltage supply. The Gardasoft pulse / strobe controllers are current sources, with the RT200 controller range offering two output channels which are independently controlled. Each channel can be individually configured to output continuously; or pulsed based on an external trigger signal or internal timer. The 'F' version controller will allow pulse width control down to 1µS resolution. Selected mode allows switching of the light based upon the state of an external trigger. The RT220 / RT260 models can be quickly configured using our free software, or for the Ethernet enabled RT220 range, simply by accessing the controller via your internet browser; type in the IP address for the controller into your browser and you have full access to all of the parameters. If you are using a third party software package the RT200 range has a simple command set that is detailed in the manual allowing easy communication. As with all Gardasoft products, all the settings are stored in non-volatile memory, and it will retain these settings even when the Ethernet connection is disconnected. Using our patented SafeSense™ technology, the RT200 range allows you to overdrive your LED lights safe in the knowledge that the lights will be protected from damage. The RT200 series will protect the lights ensuring that the high current pulses are regulated in terms of pulse width timing and frequency. The end result is you get the maximum light possible for your application. SafePower™ now allows you to overdrive the lights without having to increase the input power supply voltage. Gardasoft Controllers are universally compatible with LED Vision lighting, from manufacturers such as CCS and others. | Illumination | LED Lighting controllers; | Gardasoft | | Download | | | | | 2 | | 4A | 20A | P-Button | 20 | Yes | Yes | Download |
| | RT200F-20 | The RT range is Gardasoft's latest generation of LED lighting controller solutions for machine vision applications. Implementing our patented SafePower™ technology, installation is very easy, removing the need of having to use a bespoke DC power supply or heat sinking the controller. All RT models also include our SafeSense™ technology, which enables the safe overdriving of LEDs. To get the very best out of your LED lighting solution, in terms of brightness stability and control, lighting should be driven from a current source, not a nominal voltage supply. The Gardasoft pulse / strobe controllers are current sources, with the RT200 controller range offering two output channels which are independently controlled. Each channel can be individually configured to output continuously; or pulsed based on an external trigger signal or internal timer. The 'F' version controller will allow pulse width control down to 1µS resolution. Selected mode allows switching of the light based upon the state of an external trigger. The RT220 / RT260 models can be quickly configured using our free software, or for the Ethernet enabled RT220 range, simply by accessing the controller via your internet browser; type in the IP address for the controller into your browser and you have full access to all of the parameters. If you are using a third party software package the RT200 range has a simple command set that is detailed in the manual allowing easy communication. As with all Gardasoft products, all the settings are stored in non-volatile memory, and it will retain these settings even when the Ethernet connection is disconnected. Using our patented SafeSense™ technology, the RT200 range allows you to overdrive your LED lights safe in the knowledge that the lights will be protected from damage. The RT200 series will protect the lights ensuring that the high current pulses are regulated in terms of pulse width timing and frequency. The end result is you get the maximum light possible for your application. SafePower™ now allows you to overdrive the lights without having to increase the input power supply voltage. Gardasoft Controllers are universally compatible with LED Vision lighting, from manufacturers such as CCS and others. | Illumination | LED Lighting controllers; | Gardasoft | | Download | | | | | 2 | | 4A | 20A | P-Button | 1 | Yes | Yes | Download |
| | RT220-20 | The RT range is Gardasoft's latest generation of LED lighting controller solutions for machine vision applications. Implementing our patented SafePower™ technology, installation is very easy, removing the need of having to use a bespoke DC power supply or heat sinking the controller. All RT models also include our SafeSense™ technology, which enables the safe overdriving of LEDs. To get the very best out of your LED lighting solution, in terms of brightness stability and control, lighting should be driven from a current source, not a nominal voltage supply. The Gardasoft pulse / strobe controllers are current sources, with the RT200 controller range offering two output channels which are independently controlled. Each channel can be individually configured to output continuously; or pulsed based on an external trigger signal or internal timer. The 'F' version controller will allow pulse width control down to 1µS resolution. Selected mode allows switching of the light based upon the state of an external trigger. The RT220 / RT260 models can be quickly configured using our free software, or for the Ethernet enabled RT220 range, simply by accessing the controller via your internet browser; type in the IP address for the controller into your browser and you have full access to all of the parameters. If you are using a third party software package the RT200 range has a simple command set that is detailed in the manual allowing easy communication. As with all Gardasoft products, all the settings are stored in non-volatile memory, and it will retain these settings even when the Ethernet connection is disconnected. Using our patented SafeSense™ technology, the RT200 range allows you to overdrive your LED lights safe in the knowledge that the lights will be protected from damage. The RT200 series will protect the lights ensuring that the high current pulses are regulated in terms of pulse width timing and frequency. The end result is you get the maximum light possible for your application. SafePower™ now allows you to overdrive the lights without having to increase the input power supply voltage. Gardasoft Controllers are universally compatible with LED Vision lighting, from manufacturers such as CCS and others. | Illumination | LED Lighting controllers; | Gardasoft | | Download | | | | | 2 | | 4A | 20A | Ethernet | 20 | Yes | Yes | Download |
| | RT220F-20 | The RT range is Gardasoft's latest generation of LED lighting controller solutions for machine vision applications. Implementing our patented SafePower™ technology, installation is very easy, removing the need of having to use a bespoke DC power supply or heat sinking the controller. All RT models also include our SafeSense™ technology, which enables the safe overdriving of LEDs. To get the very best out of your LED lighting solution, in terms of brightness stability and control, lighting should be driven from a current source, not a nominal voltage supply. The Gardasoft pulse / strobe controllers are current sources, with the RT200 controller range offering two output channels which are independently controlled. Each channel can be individually configured to output continuously; or pulsed based on an external trigger signal or internal timer. The 'F' version controller will allow pulse width control down to 1µS resolution. Selected mode allows switching of the light based upon the state of an external trigger. The RT220 / RT260 models can be quickly configured using our free software, or for the Ethernet enabled RT220 range, simply by accessing the controller via your internet browser; type in the IP address for the controller into your browser and you have full access to all of the parameters. If you are using a third party software package the RT200 range has a simple command set that is detailed in the manual allowing easy communication. As with all Gardasoft products, all the settings are stored in non-volatile memory, and it will retain these settings even when the Ethernet connection is disconnected. Using our patented SafeSense™ technology, the RT200 range allows you to overdrive your LED lights safe in the knowledge that the lights will be protected from damage. The RT200 series will protect the lights ensuring that the high current pulses are regulated in terms of pulse width timing and frequency. The end result is you get the maximum light possible for your application. SafePower™ now allows you to overdrive the lights without having to increase the input power supply voltage. Gardasoft Controllers are universally compatible with LED Vision lighting, from manufacturers such as CCS and others. | Illumination | LED Lighting controllers; | Gardasoft | | Download | | | | | 2 | | 4A | 20A | Ethernet | 1 | Yes | Yes | Download |
| | RT260-20 | The RT range is Gardasoft's latest generation of LED lighting controller solutions for machine vision applications. Implementing our patented SafePower™ technology, installation is very easy, removing the need of having to use a bespoke DC power supply or heat sinking the controller. All RT models also include our SafeSense™ technology, which enables the safe overdriving of LEDs. To get the very best out of your LED lighting solution, in terms of brightness stability and control, lighting should be driven from a current source, not a nominal voltage supply. The Gardasoft pulse / strobe controllers are current sources, with the RT200 controller range offering two output channels which are independently controlled. Each channel can be individually configured to output continuously; or pulsed based on an external trigger signal or internal timer. The 'F' version controller will allow pulse width control down to 1µS resolution. Selected mode allows switching of the light based upon the state of an external trigger. The RT220 / RT260 models can be quickly configured using our free software, or for the Ethernet enabled RT220 range, simply by accessing the controller via your internet browser; type in the IP address for the controller into your browser and you have full access to all of the parameters. If you are using a third party software package the RT200 range has a simple command set that is detailed in the manual allowing easy communication. As with all Gardasoft products, all the settings are stored in non-volatile memory, and it will retain these settings even when the Ethernet connection is disconnected. Using our patented SafeSense™ technology, the RT200 range allows you to overdrive your LED lights safe in the knowledge that the lights will be protected from damage. The RT200 series will protect the lights ensuring that the high current pulses are regulated in terms of pulse width timing and frequency. The end result is you get the maximum light possible for your application. SafePower™ now allows you to overdrive the lights without having to increase the input power supply voltage. Gardasoft Controllers are universally compatible with LED Vision lighting, from manufacturers such as CCS and others. | Illumination | LED Lighting controllers; | Gardasoft | | Download | | | | | 2 | | 4A | 20A | RS232 | 20 | Yes | Yes | Download |
| | RT260F-20 | The RT range is Gardasoft's latest generation of LED lighting controller solutions for machine vision applications. Implementing our patented SafePower™ technology, installation is very easy, removing the need of having to use a bespoke DC power supply or heat sinking the controller. All RT models also include our SafeSense™ technology, which enables the safe overdriving of LEDs. To get the very best out of your LED lighting solution, in terms of brightness stability and control, lighting should be driven from a current source, not a nominal voltage supply. The Gardasoft pulse / strobe controllers are current sources, with the RT200 controller range offering two output channels which are independently controlled. Each channel can be individually configured to output continuously; or pulsed based on an external trigger signal or internal timer. The 'F' version controller will allow pulse width control down to 1µS resolution. Selected mode allows switching of the light based upon the state of an external trigger. The RT220 / RT260 models can be quickly configured using our free software, or for the Ethernet enabled RT220 range, simply by accessing the controller via your internet browser; type in the IP address for the controller into your browser and you have full access to all of the parameters. If you are using a third party software package the RT200 range has a simple command set that is detailed in the manual allowing easy communication. As with all Gardasoft products, all the settings are stored in non-volatile memory, and it will retain these settings even when the Ethernet connection is disconnected. Using our patented SafeSense™ technology, the RT200 range allows you to overdrive your LED lights safe in the knowledge that the lights will be protected from damage. The RT200 series will protect the lights ensuring that the high current pulses are regulated in terms of pulse width timing and frequency. The end result is you get the maximum light possible for your application. SafePower™ now allows you to overdrive the lights without having to increase the input power supply voltage. Gardasoft Controllers are universally compatible with LED Vision lighting, from manufacturers such as CCS and others. | Illumination | LED Lighting controllers; | Gardasoft | | Download | | | | | 2 | | 4A | 20A | RS232 | 1 | Yes | Yes | Download |
| | RT420-20 | The RT range is Gardasoft's latest generation of LED lighting controller solutions for machine vision applications. Implementing our patented SafePower™ technology, installation is very easy, removing the need of having to use a bespoke DC power supply or heat sinking the controller. All RT models also include our SafeSense™ technology, which enables the safe overdriving of LEDs. To get the very best out of your LED lighting solution, in terms of brightness stability and control, lighting should be driven from a current source, not a nominal voltage supply. The Gardasoft pulse /strobe controllers are current sources, with the RT400 controller range offering four output channels which are independently controlled. Each channel can be individually configured to output continuously; or pulsed based on an external trigger signal or internal timer. The 'F' version controller will allow pulse width control down to 1µS resolution. Selected mode allows switching of the light based upon the state of an external trigger. The RT420 / RT460 models can be quickly configured using our free software, or for the Ethernet enabled RT220 range, simply by accessing the controller via your internet browser; type in the IP address for the controller into your browser and you have full access to all of the parameters. If you are using a third party software package the RT400 range has a simple command set that is detailed in the manual allowing easy communication. As with all Gardasoft products, all the settings are stored in non-volatile memory, and it will retain these settings even when the Ethernet connection is disconnected. Using our patented SafeSense™ technology, the RT400 range allows you to overdrive your LED lights safe in the knowledge that the lights will be protected from damage. The RT400 series will protect the lights ensuring that the high current pulses are regulated in terms of pulse width timing and frequency. The end result is you get the maximum light possible for your application. SafePower™ now allows you to overdrive the lights without having to increase the input power supply voltage making implementation and system integration much simpler. Gardasoft Controllers are universally compatible with LED Vision lighting, from manufacturers such as CCS and others. | Illumination | LED Lighting controllers; | Gardasoft | | Download | | | | | 4 | | 4A | 20A | Ethernet | 20 | Yes | Yes | Download |
| | RT420F-20 | The RT range is Gardasoft's latest generation of LED lighting controller solutions for machine vision applications. Implementing our patented SafePower™ technology, installation is very easy, removing the need of having to use a bespoke DC power supply or heat sinking the controller. All RT models also include our SafeSense™ technology, which enables the safe overdriving of LEDs. To get the very best out of your LED lighting solution, in terms of brightness stability and control, lighting should be driven from a current source, not a nominal voltage supply. The Gardasoft pulse /strobe controllers are current sources, with the RT400 controller range offering four output channels which are independently controlled. Each channel can be individually configured to output continuously; or pulsed based on an external trigger signal or internal timer. The 'F' version controller will allow pulse width control down to 1µS resolution. Selected mode allows switching of the light based upon the state of an external trigger. The RT420 / RT460 models can be quickly configured using our free software, or for the Ethernet enabled RT220 range, simply by accessing the controller via your internet browser; type in the IP address for the controller into your browser and you have full access to all of the parameters. If you are using a third party software package the RT400 range has a simple command set that is detailed in the manual allowing easy communication. As with all Gardasoft products, all the settings are stored in non-volatile memory, and it will retain these settings even when the Ethernet connection is disconnected. Using our patented SafeSense™ technology, the RT400 range allows you to overdrive your LED lights safe in the knowledge that the lights will be protected from damage. The RT400 series will protect the lights ensuring that the high current pulses are regulated in terms of pulse width timing and frequency. The end result is you get the maximum light possible for your application. SafePower™ now allows you to overdrive the lights without having to increase the input power supply voltage making implementation and system integration much simpler. Gardasoft Controllers are universally compatible with LED Vision lighting, from manufacturers such as CCS and others. | Illumination | LED Lighting controllers; | Gardasoft | | Download | | | | | 4 | | 4A | 20A | Ethernet | 1 | Yes | Yes | Download |
| | RT460-20 | The RT range is Gardasoft's latest generation of LED lighting controller solutions for machine vision applications. Implementing our patented SafePower™ technology, installation is very easy, removing the need of having to use a bespoke DC power supply or heat sinking the controller. All RT models also include our SafeSense™ technology, which enables the safe overdriving of LEDs. To get the very best out of your LED lighting solution, in terms of brightness stability and control, lighting should be driven from a current source, not a nominal voltage supply. The Gardasoft pulse /strobe controllers are current sources, with the RT400 controller range offering four output channels which are independently controlled. Each channel can be individually configured to output continuously; or pulsed based on an external trigger signal or internal timer. The 'F' version controller will allow pulse width control down to 1µS resolution. Selected mode allows switching of the light based upon the state of an external trigger. The RT420 / RT460 models can be quickly configured using our free software, or for the Ethernet enabled RT220 range, simply by accessing the controller via your internet browser; type in the IP address for the controller into your browser and you have full access to all of the parameters. If you are using a third party software package the RT400 range has a simple command set that is detailed in the manual allowing easy communication. As with all Gardasoft products, all the settings are stored in non-volatile memory, and it will retain these settings even when the Ethernet connection is disconnected. Using our patented SafeSense™ technology, the RT400 range allows you to overdrive your LED lights safe in the knowledge that the lights will be protected from damage. The RT400 series will protect the lights ensuring that the high current pulses are regulated in terms of pulse width timing and frequency. The end result is you get the maximum light possible for your application. SafePower™ now allows you to overdrive the lights without having to increase the input power supply voltage making implementation and system integration much simpler. Gardasoft Controllers are universally compatible with LED Vision lighting, from manufacturers such as CCS and others. | Illumination | LED Lighting controllers; | Gardasoft | | Download | | | | | 4 | | 4A | 20A | RS232 | 20 | Yes | Yes | Download |
| | RT460F-20 | The RT range is Gardasoft's latest generation of LED lighting controller solutions for machine vision applications. Implementing our patented SafePower™ technology, installation is very easy, removing the need of having to use a bespoke DC power supply or heat sinking the controller. All RT models also include our SafeSense™ technology, which enables the safe overdriving of LEDs. To get the very best out of your LED lighting solution, in terms of brightness stability and control, lighting should be driven from a current source, not a nominal voltage supply. The Gardasoft pulse /strobe controllers are current sources, with the RT400 controller range offering four output channels which are independently controlled. Each channel can be individually configured to output continuously; or pulsed based on an external trigger signal or internal timer. The 'F' version controller will allow pulse width control down to 1µS resolution. Selected mode allows switching of the light based upon the state of an external trigger. The RT420 / RT460 models can be quickly configured using our free software, or for the Ethernet enabled RT220 range, simply by accessing the controller via your internet browser; type in the IP address for the controller into your browser and you have full access to all of the parameters. If you are using a third party software package the RT400 range has a simple command set that is detailed in the manual allowing easy communication. As with all Gardasoft products, all the settings are stored in non-volatile memory, and it will retain these settings even when the Ethernet connection is disconnected. Using our patented SafeSense™ technology, the RT400 range allows you to overdrive your LED lights safe in the knowledge that the lights will be protected from damage. The RT400 series will protect the lights ensuring that the high current pulses are regulated in terms of pulse width timing and frequency. The end result is you get the maximum light possible for your application. SafePower™ now allows you to overdrive the lights without having to increase the input power supply voltage making implementation and system integration much simpler. Gardasoft Controllers are universally compatible with LED Vision lighting, from manufacturers such as CCS and others. | Illumination | LED Lighting controllers; | Gardasoft | | Download | | | | | 4 | | 4A | 20A | RS232 | 1 | Yes | Yes | Download |
| | RT820F-2 | The RT range is Gardasoft's latest generation of LED lighting controller solutions for machine vision applications. Implementing our patented SafePower™ technology, installation is very easy, removing the need of having to use a bespoke DC power supply or heat sinking the controller. All RT models also include our SafeSense™ technology, which enables the safe overdriving of LEDs. To get the very best out of your LED lighting solution, in terms of brightness stability and control, lighting should be driven from a current source, not a nominal voltage supply. The Gardasoft pulse / strobe controllers are current sources, with the RT800 controller range offering eight output channels which are independently controlled. Each channel can be individually configured to output continuously; or pulsed based on an external trigger signal or internal timer. These controllers allow pulse width control down to 1 µS resolution. Selected mode allows switching of the light based upon the state of an external trigger. The RT820 / RT860 models can be quickly configured using our free software, or for the Ethernet enabled RT820 range, simply by accessing the controller via your internet browser; type in the IP address for the controller into your browser and you have full access to all of the parameters. If you are using a third party software package the RT800 range has a simple command set that is detailed in the manual allowing easy communication. As with all Gardasoft products, all the settings are stored in non-volatile memory, and it will retain these settings even when the Ethernet connection is disconnected. Using our patented SafeSense™ technology, the RT800 range allows you to overdrive your LED lights safe in the knowledge that the lights will be protected from damage. The RT800 series will protect the lights ensuring that the high current pulses are regulated in terms of pulse width timing and frequency. The end result is you get the maximum light possible for your application. SafePower™ now allows you to overdrive the lights without having to increase the input power supply voltage, making implementation and system integration much simpler. Gardasoft Controllers are universally compatible with LED Vision lighting, from manufacturers such as CCS and others. | Illumination | LED Lighting controllers; | Gardasoft | | Download | | | | | 8 | | 4A | 2A | Ethernet | 1 | Yes | Yes | Download |
| | RT820F-20 | The RT range is Gardasoft's latest generation of LED lighting controller solutions for machine vision applications. Implementing our patented SafePower™ technology, installation is very easy, removing the need of having to use a bespoke DC power supply or heat sinking the controller. All RT models also include our SafeSense™ technology, which enables the safe overdriving of LEDs. To get the very best out of your LED lighting solution, in terms of brightness stability and control, lighting should be driven from a current source, not a nominal voltage supply. The Gardasoft pulse / strobe controllers are current sources, with the RT800 controller range offering eight output channels which are independently controlled. Each channel can be individually configured to output continuously; or pulsed based on an external trigger signal or internal timer. These controllers allow pulse width control down to 1 µS resolution. Selected mode allows switching of the light based upon the state of an external trigger. The RT820 / RT860 models can be quickly configured using our free software, or for the Ethernet enabled RT820 range, simply by accessing the controller via your internet browser; type in the IP address for the controller into your browser and you have full access to all of the parameters. If you are using a third party software package the RT800 range has a simple command set that is detailed in the manual allowing easy communication. As with all Gardasoft products, all the settings are stored in non-volatile memory, and it will retain these settings even when the Ethernet connection is disconnected. Using our patented SafeSense™ technology, the RT800 range allows you to overdrive your LED lights safe in the knowledge that the lights will be protected from damage. The RT800 series will protect the lights ensuring that the high current pulses are regulated in terms of pulse width timing and frequency. The end result is you get the maximum light possible for your application. SafePower™ now allows you to overdrive the lights without having to increase the input power supply voltage, making implementation and system integration much simpler. Gardasoft Controllers are universally compatible with LED Vision lighting, from manufacturers such as CCS and others. | Illumination | LED Lighting controllers; | Gardasoft | | Download | | | | | 8 | | 4A | 20A | Ethernet | 1 | Yes | Yes | Download |
| | RT860F-2 | The RT range is Gardasoft's latest generation of LED lighting controller solutions for machine vision applications. Implementing our patented SafePower™ technology, installation is very easy, removing the need of having to use a bespoke DC power supply or heat sinking the controller. All RT models also include our SafeSense™ technology, which enables the safe overdriving of LEDs. To get the very best out of your LED lighting solution, in terms of brightness stability and control, lighting should be driven from a current source, not a nominal voltage supply. The Gardasoft pulse / strobe controllers are current sources, with the RT800 controller range offering eight output channels which are independently controlled. Each channel can be individually configured to output continuously; or pulsed based on an external trigger signal or internal timer. These controllers allow pulse width control down to 1 µS resolution. Selected mode allows switching of the light based upon the state of an external trigger. The RT820 / RT860 models can be quickly configured using our free software, or for the Ethernet enabled RT820 range, simply by accessing the controller via your internet browser; type in the IP address for the controller into your browser and you have full access to all of the parameters. If you are using a third party software package the RT800 range has a simple command set that is detailed in the manual allowing easy communication. As with all Gardasoft products, all the settings are stored in non-volatile memory, and it will retain these settings even when the Ethernet connection is disconnected. Using our patented SafeSense™ technology, the RT800 range allows you to overdrive your LED lights safe in the knowledge that the lights will be protected from damage. The RT800 series will protect the lights ensuring that the high current pulses are regulated in terms of pulse width timing and frequency. The end result is you get the maximum light possible for your application. SafePower™ now allows you to overdrive the lights without having to increase the input power supply voltage, making implementation and system integration much simpler. Gardasoft Controllers are universally compatible with LED Vision lighting, from manufacturers such as CCS and others. | Illumination | LED Lighting controllers; | Gardasoft | | Download | | | | | 8 | | 4A | 2A | RS232 | 1 | Yes | Yes | Download |
| | RT860F-20 | The RT range is Gardasoft's latest generation of LED lighting controller solutions for machine vision applications. Implementing our patented SafePower™ technology, installation is very easy, removing the need of having to use a bespoke DC power supply or heat sinking the controller. All RT models also include our SafeSense™ technology, which enables the safe overdriving of LEDs. To get the very best out of your LED lighting solution, in terms of brightness stability and control, lighting should be driven from a current source, not a nominal voltage supply. The Gardasoft pulse / strobe controllers are current sources, with the RT800 controller range offering eight output channels which are independently controlled. Each channel can be individually configured to output continuously; or pulsed based on an external trigger signal or internal timer. These controllers allow pulse width control down to 1 µS resolution. Selected mode allows switching of the light based upon the state of an external trigger. The RT820 / RT860 models can be quickly configured using our free software, or for the Ethernet enabled RT820 range, simply by accessing the controller via your internet browser; type in the IP address for the controller into your browser and you have full access to all of the parameters. If you are using a third party software package the RT800 range has a simple command set that is detailed in the manual allowing easy communication. As with all Gardasoft products, all the settings are stored in non-volatile memory, and it will retain these settings even when the Ethernet connection is disconnected. Using our patented SafeSense™ technology, the RT800 range allows you to overdrive your LED lights safe in the knowledge that the lights will be protected from damage. The RT800 series will protect the lights ensuring that the high current pulses are regulated in terms of pulse width timing and frequency. The end result is you get the maximum light possible for your application. SafePower™ now allows you to overdrive the lights without having to increase the input power supply voltage, making implementation and system integration much simpler. Gardasoft Controllers are universally compatible with LED Vision lighting, from manufacturers such as CCS and others. | Illumination | LED Lighting controllers; | Gardasoft | | Download | | | | | 8 | | 4A | 20A | RS232 | 1 | Yes | Yes | Download |
| | RTCC420-2 | The RTCC4 combines the features of the Gardasoft RT Series LED Lighting Controllers with the addition of two digital outputs for Triggering or general use. This combination provides a high level of integration in Machine Vision systems - reducing complexity, space and cost. Some applications have fixed speed mechanisms and the time from the trigger to the reject gate is well known; for others, an encoder may be used to determine belt movement. Two types of encoder input are supported - one wire systems which have distance only, and two wire systems having distance and belt direction only. Taking the functionality of the Gardasoft RTCC4 Timing Controller and integrating this into the RT Series controllers enables precise lighting control combined with the ability to trigger external components such as cameras and reject gates. In addition, inputs can be accepted from encoders or proximity switches that can then be used to trigger the lights or one of the additional digital inputs. | Illumination | LED Lighting controllers; | Gardasoft | | Download | | | | | 4 | | 2A | 2A | Ethernet | 20 | Yes | Yes | Download |
| | RTCC420F-2 | The RTCC4 combines the features of the Gardasoft RT Series LED Lighting Controllers with the addition of two digital outputs for Triggering or general use. This combination provides a high level of integration in Machine Vision systems - reducing complexity, space and cost. Some applications have fixed speed mechanisms and the time from the trigger to the reject gate is well known; for others, an encoder may be used to determine belt movement. Two types of encoder input are supported - one wire systems which have distance only, and two wire systems having distance and belt direction only. Taking the functionality of the Gardasoft RTCC4 Timing Controller and integrating this into the RT Series controllers enables precise lighting control combined with the ability to trigger external components such as cameras and reject gates. In addition, inputs can be accepted from encoders or proximity switches that can then be used to trigger the lights or one of the additional digital inputs. | Illumination | LED Lighting controllers; | Gardasoft | | Download | | | | | 4 | | 2A | 2A | Ethernet | 1 | Yes | Yes | Download |
| | RTCC460-2 | The RTCC4 combines the features of the Gardasoft RT Series LED Lighting Controllers with the addition of two digital outputs for Triggering or general use. This combination provides a high level of integration in Machine Vision systems - reducing complexity, space and cost. Some applications have fixed speed mechanisms and the time from the trigger to the reject gate is well known; for others, an encoder may be used to determine belt movement. Two types of encoder input are supported - one wire systems which have distance only, and two wire systems having distance and belt direction only. Taking the functionality of the Gardasoft RTCC4 Timing Controller and integrating this into the RT Series controllers enables precise lighting control combined with the ability to trigger external components such as cameras and reject gates. In addition, inputs can be accepted from encoders or proximity switches that can then be used to trigger the lights or one of the additional digital inputs. | Illumination | LED Lighting controllers; | Gardasoft | | Download | | | | | 4 | | 2A | 2A | RS232 | 20 | Yes | Yes | Download |
| | RTCC460F-2 | The RTCC4 combines the features of the Gardasoft RT Series LED Lighting Controllers with the addition of two digital outputs for Triggering or general use. This combination provides a high level of integration in Machine Vision systems - reducing complexity, space and cost. Some applications have fixed speed mechanisms and the time from the trigger to the reject gate is well known; for others, an encoder may be used to determine belt movement. Two types of encoder input are supported - one wire systems which have distance only, and two wire systems having distance and belt direction only. Taking the functionality of the Gardasoft RTCC4 Timing Controller and integrating this into the RT Series controllers enables precise lighting control combined with the ability to trigger external components such as cameras and reject gates. In addition, inputs can be accepted from encoders or proximity switches that can then be used to trigger the lights or one of the additional digital inputs. | Illumination | LED Lighting controllers; | Gardasoft | | Download | | | | | 4 | | 2A | 2A | RS232 | 1 | Yes | Yes | Download |
| | RTCC420-20 | The RTCC4 combines the features of the Gardasoft RT Series LED Lighting Controllers with the addition of two digital outputs for Triggering or general use. This combination provides a high level of integration in Machine Vision systems - reducing complexity, space and cost. Some applications have fixed speed mechanisms and the time from the trigger to the reject gate is well known; for others, an encoder may be used to determine belt movement. Two types of encoder input are supported - one wire systems which have distance only, and two wire systems having distance and belt direction only. Taking the functionality of the Gardasoft RTCC4 Timing Controller and integrating this into the RT Series controllers enables precise lighting control combined with the ability to trigger external components such as cameras and reject gates. In addition, inputs can be accepted from encoders or proximity switches that can then be used to trigger the lights or one of the additional digital inputs. | Illumination | LED Lighting controllers; | Gardasoft | | Download | | | | | 4 | | 3A | 20A | Ethernet | 20 | Yes | Yes | Download |
| | RTCC420F-20 | The RTCC4 combines the features of the Gardasoft RT Series LED Lighting Controllers with the addition of two digital outputs for Triggering or general use. This combination provides a high level of integration in Machine Vision systems - reducing complexity, space and cost. Some applications have fixed speed mechanisms and the time from the trigger to the reject gate is well known; for others, an encoder may be used to determine belt movement. Two types of encoder input are supported - one wire systems which have distance only, and two wire systems having distance and belt direction only. Taking the functionality of the Gardasoft RTCC4 Timing Controller and integrating this into the RT Series controllers enables precise lighting control combined with the ability to trigger external components such as cameras and reject gates. In addition, inputs can be accepted from encoders or proximity switches that can then be used to trigger the lights or one of the additional digital inputs. | Illumination | LED Lighting controllers; | Gardasoft | | Download | | | | | 4 | | 3A | 20A | Ethernet | 1 | Yes | Yes | Download |
| | RTCC460-20 | The RTCC4 combines the features of the Gardasoft RT Series LED Lighting Controllers with the addition of two digital outputs for Triggering or general use. This combination provides a high level of integration in Machine Vision systems - reducing complexity, space and cost. Some applications have fixed speed mechanisms and the time from the trigger to the reject gate is well known; for others, an encoder may be used to determine belt movement. Two types of encoder input are supported - one wire systems which have distance only, and two wire systems having distance and belt direction only. Taking the functionality of the Gardasoft RTCC4 Timing Controller and integrating this into the RT Series controllers enables precise lighting control combined with the ability to trigger external components such as cameras and reject gates. In addition, inputs can be accepted from encoders or proximity switches that can then be used to trigger the lights or one of the additional digital inputs. | Illumination | LED Lighting controllers; | Gardasoft | | Download | | | | | 4 | | 3A | 20A | RS232 | 20 | Yes | Yes | Download |
| | RTCC460F-20 | The RTCC4 combines the features of the Gardasoft RT Series LED Lighting Controllers with the addition of two digital outputs for Triggering or general use. This combination provides a high level of integration in Machine Vision systems - reducing complexity, space and cost. Some applications have fixed speed mechanisms and the time from the trigger to the reject gate is well known; for others, an encoder may be used to determine belt movement. Two types of encoder input are supported - one wire systems which have distance only, and two wire systems having distance and belt direction only. Taking the functionality of the Gardasoft RTCC4 Timing Controller and integrating this into the RT Series controllers enables precise lighting control combined with the ability to trigger external components such as cameras and reject gates. In addition, inputs can be accepted from encoders or proximity switches that can then be used to trigger the lights or one of the additional digital inputs. | Illumination | LED Lighting controllers; | Gardasoft | | Download | | | | | 4 | | 3A | 20A | RS232 | 1 | Yes | Yes | Download |
| | RC100 | The RC range is Gardasoft's latest generation of LED lighting controller solutions for machine vision applications. Implementing our patented SafePower™ technology, installation is very easy, removing the needs of perhaps having to use a bespoke DC power supply or heat sinking the controller. All RC models also include our SafeSense™ technology. To get the very best out of your LED lighting solution, in terms of brightness stability and control, lighting should be driven from a current source, not a nominal voltage supply. The Gardasoft RC Series controllers are therefore single channel current source devices. The RC Series models can be quickly configured using our free software, or for the Ethernet enabled RC120 controller, simply by accessing the controller via your internet browser; type the IP address for the controller into your browser and you have full access to all of the parameters. Using a third party software package? Not a problem, the RC range has a simple command set that is detailed in the manual allowing easy communication. As with all Gardasoft products, all the settings are stored in non-volatile memory, and it will retain these settings even when the Ethernet connection is disconnected. Using our patented SafeSense™ technology, the RC range allows you to overdrive your LED lights safe in the knowledge that the lights will be protected from damage. The RC Series will protect the lights ensuring that the high current pulses are regulated in terms of pulse width timing and frequency. The end result is you get the maximum light possible for your application. SafePower™ now allows you to overdrive the lights without having to increase the input power supply voltage, making implementation and system integration much simpler. Gardasoft Controllers are universally compatible with LED Vision lighting, from manufacturers such as CCS and others. | Illumination | LED Lighting controllers; | Gardasoft | | Download | | | | | 1 | | 1A | 1A | P-Button | 100 | Yes | Yes | Download |
| | RC120 | The RC range is Gardasoft's latest generation of LED lighting controller solutions for machine vision applications. Implementing our patented SafePower™ technology, installation is very easy, removing the needs of perhaps having to use a bespoke DC power supply or heat sinking the controller. All RC models also include our SafeSense™ technology. To get the very best out of your LED lighting solution, in terms of brightness stability and control, lighting should be driven from a current source, not a nominal voltage supply. The Gardasoft RC Series controllers are therefore single channel current source devices. The RC Series models can be quickly configured using our free software, or for the Ethernet enabled RC120 controller, simply by accessing the controller via your internet browser; type the IP address for the controller into your browser and you have full access to all of the parameters. Using a third party software package? Not a problem, the RC range has a simple command set that is detailed in the manual allowing easy communication. As with all Gardasoft products, all the settings are stored in non-volatile memory, and it will retain these settings even when the Ethernet connection is disconnected. Using our patented SafeSense™ technology, the RC range allows you to overdrive your LED lights safe in the knowledge that the lights will be protected from damage. The RC Series will protect the lights ensuring that the high current pulses are regulated in terms of pulse width timing and frequency. The end result is you get the maximum light possible for your application. SafePower™ now allows you to overdrive the lights without having to increase the input power supply voltage, making implementation and system integration much simpler. Gardasoft Controllers are universally compatible with LED Vision lighting, from manufacturers such as CCS and others. | Illumination | LED Lighting controllers; | Gardasoft | | Download | | | | | 1 | | 1.2 A | 2 A | Ethernet | 100 | Yes | Yes | Download |
| | PP420 | To get the very best out of your LED lighting solution, in terms of brightness stability and control, the lights should be driven from a current source, not a nominal voltage supply. The Gardasoft pulse / strobe controllers are current sources. The PP420 LED lighting controller offers four output channels which are independently controlled. Each channel can be individually configured to output continuously; or pulsed based on an external trigger signal or internal timer. The 'F' version controller will allow pulse width control down to 1µS resolution. Selected mode allows switching of the light based upon the state of an external trigger. The PP420 models can be quickly configured using our free software which can be downloaded from this page, or simply by accessing the controller via your internet browser; type in the IP address for the controller into your browser and you have full access to all of the parameters. If you are using a third party software package the PP420 has a simple command set that is detailed in the manual allowing easy communication. As with all Gardasoft products, all the settings are stored in non-volatile memory, and it will retain these settings even when the Ethernet connection is disconnected. Using our patented SafeSense™ technology, the PP420 controller allows you to overdrive your LED lights safe in the knowledge that the lights will be protected from damage. SafeSense™ regulates the pulse width timing and duty cycle, depending on how high you are overdriving the light. The end result is you get the maximum light possible for your application. Gardasoft Controllers are universally compatible with LED Vision lighting, from manufacturers such as CCS. If you're overdriving you may need to increase the DC power input to the controller or heat-sink the controller due to power dissipation. If this is an issue for your application we would recommend the RT400 series controller, which has all of the features of the PP420 controller but is based around our SafePower™ technology. | Illumination | LED Lighting controllers; | Gardasoft | | Download | | | | | 4 | | 2A | 10A | Ethernet | 20 | Yes | Yes | Download |
| | PP420F | To get the very best out of your LED lighting solution, in terms of brightness stability and control, the lights should be driven from a current source, not a nominal voltage supply. The Gardasoft pulse / strobe controllers are current sources. The PP420 LED lighting controller offers four output channels which are independently controlled. Each channel can be individually configured to output continuously; or pulsed based on an external trigger signal or internal timer. The 'F' version controller will allow pulse width control down to 1µS resolution. Selected mode allows switching of the light based upon the state of an external trigger. The PP420 models can be quickly configured using our free software which can be downloaded from this page, or simply by accessing the controller via your internet browser; type in the IP address for the controller into your browser and you have full access to all of the parameters. If you are using a third party software package the PP420 has a simple command set that is detailed in the manual allowing easy communication. As with all Gardasoft products, all the settings are stored in non-volatile memory, and it will retain these settings even when the Ethernet connection is disconnected. Using our patented SafeSense™ technology, the PP420 controller allows you to overdrive your LED lights safe in the knowledge that the lights will be protected from damage. SafeSense™ regulates the pulse width timing and duty cycle, depending on how high you are overdriving the light. The end result is you get the maximum light possible for your application. Gardasoft Controllers are universally compatible with LED Vision lighting, from manufacturers such as CCS. If you're overdriving you may need to increase the DC power input to the controller or heat-sink the controller due to power dissipation. If this is an issue for your application we would recommend the RT400 series controller, which has all of the features of the PP420 controller but is based around our SafePower™ technology. | Illumination | LED Lighting controllers; | Gardasoft | | Download | | | | | 4 | | 2A | 10A | Ethernet | 1 | Yes | Yes | Download |
| | PP500 | To get the very best out of your LED lighting solution, in terms of brightness stability and control, the lights should be driven from a current source, not a nominal voltage supply. The Gardasoft controllers are current sources. The PP500 LED lighting controller offers two output channels which are independently controlled. Each channel can be individually configured to output continuously; or pulsed based on an external trigger signal or internal timer. The 'F' version controller will allow pulse width control down to 1µS resolution. Selected mode allows switching of the light based upon the state of an external trigger. The PP520 models can be quickly configured using our free software which can be downloaded from this page, or simply by accessing the controller via your internet browser; type in the IP address for the controller into your browser and you have full access to all of the parameters. If you are using a third party software package the PP520 has a simple command set that is detailed in the manual allowing easy communication. As with all Gardasoft products, all the settings are stored in non-volatile memory, and it will retain these settings even when the Ethernet connection is disconnected. Using our patented SafeSeries™ technology, the PP500 controller allows you to overdrive your LED lights safe in the knowledge that the lights will be protected from damage. SafeSense™ regulates the pulse width timing and duty cycle, depending on how high you are overdriving the light. The end result is you get the maximum light possible for your application. Gardasoft Controllers are universally compatible with LED Vision lighting, from manufacturers such as CCS. If you're overdriving you may need to increase the DC power input to the controller or heat-sink the controller due to power dissipation. If this is an issue for your application we would recommend the RT200 series controller, which has all of the features of the PP500 controller but is based around our SafePower™ technology. | Illumination | LED Lighting controllers; | Gardasoft | | Download | | | | | 2 | | 2A | 10A | P-Button | 20 | Yes | Yes | Download |
| | PP520 | To get the very best out of your LED lighting solution, in terms of brightness stability and control, the lights should be driven from a current source, not a nominal voltage supply. The Gardasoft controllers are current sources. The PP500 LED lighting controller offers two output channels which are independently controlled. Each channel can be individually configured to output continuously; or pulsed based on an external trigger signal or internal timer. The 'F' version controller will allow pulse width control down to 1µS resolution. Selected mode allows switching of the light based upon the state of an external trigger. The PP520 models can be quickly configured using our free software which can be downloaded from this page, or simply by accessing the controller via your internet browser; type in the IP address for the controller into your browser and you have full access to all of the parameters. If you are using a third party software package the PP520 has a simple command set that is detailed in the manual allowing easy communication. As with all Gardasoft products, all the settings are stored in non-volatile memory, and it will retain these settings even when the Ethernet connection is disconnected. Using our patented SafeSeries™ technology, the PP500 controller allows you to overdrive your LED lights safe in the knowledge that the lights will be protected from damage. SafeSense™ regulates the pulse width timing and duty cycle, depending on how high you are overdriving the light. The end result is you get the maximum light possible for your application. Gardasoft Controllers are universally compatible with LED Vision lighting, from manufacturers such as CCS. If you're overdriving you may need to increase the DC power input to the controller or heat-sink the controller due to power dissipation. If this is an issue for your application we would recommend the RT200 series controller, which has all of the features of the PP500 controller but is based around our SafePower™ technology. | Illumination | LED Lighting controllers; | Gardasoft | | Download | | | | | 2 | | 2A | 10A | Ethernet | 20 | Yes | Yes | Download |
| | PP500F | To get the very best out of your LED lighting solution, in terms of brightness stability and control, the lights should be driven from a current source, not a nominal voltage supply. The Gardasoft controllers are current sources. The PP500 LED lighting controller offers two output channels which are independently controlled. Each channel can be individually configured to output continuously; or pulsed based on an external trigger signal or internal timer. The 'F' version controller will allow pulse width control down to 1µS resolution. Selected mode allows switching of the light based upon the state of an external trigger. The PP520 models can be quickly configured using our free software which can be downloaded from this page, or simply by accessing the controller via your internet browser; type in the IP address for the controller into your browser and you have full access to all of the parameters. If you are using a third party software package the PP520 has a simple command set that is detailed in the manual allowing easy communication. As with all Gardasoft products, all the settings are stored in non-volatile memory, and it will retain these settings even when the Ethernet connection is disconnected. Using our patented SafeSeries™ technology, the PP500 controller allows you to overdrive your LED lights safe in the knowledge that the lights will be protected from damage. SafeSense™ regulates the pulse width timing and duty cycle, depending on how high you are overdriving the light. The end result is you get the maximum light possible for your application. Gardasoft Controllers are universally compatible with LED Vision lighting, from manufacturers such as CCS. If you're overdriving you may need to increase the DC power input to the controller or heat-sink the controller due to power dissipation. If this is an issue for your application we would recommend the RT200 series controller, which has all of the features of the PP500 controller but is based around our SafePower™ technology. | Illumination | LED Lighting controllers; | Gardasoft | | Download | | | | | 2 | | 2A | 10A | P-Button | 1 | Yes | Yes | Download |
| | PP520F | To get the very best out of your LED lighting solution, in terms of brightness stability and control, the lights should be driven from a current source, not a nominal voltage supply. The Gardasoft controllers are current sources. The PP500 LED lighting controller offers two output channels which are independently controlled. Each channel can be individually configured to output continuously; or pulsed based on an external trigger signal or internal timer. The 'F' version controller will allow pulse width control down to 1µS resolution. Selected mode allows switching of the light based upon the state of an external trigger. The PP520 models can be quickly configured using our free software which can be downloaded from this page, or simply by accessing the controller via your internet browser; type in the IP address for the controller into your browser and you have full access to all of the parameters. If you are using a third party software package the PP520 has a simple command set that is detailed in the manual allowing easy communication. As with all Gardasoft products, all the settings are stored in non-volatile memory, and it will retain these settings even when the Ethernet connection is disconnected. Using our patented SafeSeries™ technology, the PP500 controller allows you to overdrive your LED lights safe in the knowledge that the lights will be protected from damage. SafeSense™ regulates the pulse width timing and duty cycle, depending on how high you are overdriving the light. The end result is you get the maximum light possible for your application. Gardasoft Controllers are universally compatible with LED Vision lighting, from manufacturers such as CCS. If you're overdriving you may need to increase the DC power input to the controller or heat-sink the controller due to power dissipation. If this is an issue for your application we would recommend the RT200 series controller, which has all of the features of the PP500 controller but is based around our SafePower™ technology. | Illumination | LED Lighting controllers; | Gardasoft | | Download | | | | | 2 | | 2A | 10A | Ethernet | 1 | Yes | Yes | Download |
| | PP600 | To get the very best out of your LED lighting solution, in terms of brightness stability and control, the lights should be driven from a current source, not a nominal voltage supply. The Gardasoft controllers are current sources. The PP600 LED lighting controller offers two output channels which are independently controlled. Each channel can be individually configured to output continuously; or pulsed based on an external trigger signal or internal timer. The 'F' version controller will allow pulse width control down to 5µS resolution. Selected mode allows switching of the light based upon the state of an external trigger. The PP600 also has an additional mode of operation called switched mode. This enables you to very quickly change your light from one intensity setting to another simply by changing the states of the two trigger inputs (high or low). The end result is you can preset up to four different light intensity values and quickly switch from one setting to the next just by changing the states of the trigger inputs. The PP610 RS232 enabled models can be quickly configured using our free software which can be downloaded from this page. If you are using a third party software package the PP610 range has a simple command set that is detailed in the manual allowing easy communication. As with all Gardasoft products, all the settings are stored in non-volatile memory, and it will retain these settings even when the Ethernet connection is disconnected. Gardasoft Controllers are universally compatible with LED Vision lighting, from manufacturers such as CCS. When overdriving you may need to increase the DC power input to the controller or heat-sink the controller due to power dissipation. If this is an issue for your application we would recommend the RT200 series controller (RT260 for RS232 control), which has all of the features of the PP600 series but is based around our SafePower™ technology. The RT series will also offer you all the advantages of our patented SafeSense™ technology which is not available in the PP600 range. | Illumination | LED Lighting controllers; | Gardasoft | | Download | | | | | 2 | | 4A | 10A | P-Button | 20 | Yes | Yes | Download |
| | PP602 | To get the very best out of your LED lighting solution, in terms of brightness stability and control, the lights should be driven from a current source, not a nominal voltage supply. The Gardasoft controllers are current sources. The PP600 LED lighting controller offers two output channels which are independently controlled. Each channel can be individually configured to output continuously; or pulsed based on an external trigger signal or internal timer. The 'F' version controller will allow pulse width control down to 5µS resolution. Selected mode allows switching of the light based upon the state of an external trigger. The PP600 also has an additional mode of operation called switched mode. This enables you to very quickly change your light from one intensity setting to another simply by changing the states of the two trigger inputs (high or low). The end result is you can preset up to four different light intensity values and quickly switch from one setting to the next just by changing the states of the trigger inputs. The PP610 RS232 enabled models can be quickly configured using our free software which can be downloaded from this page. If you are using a third party software package the PP610 range has a simple command set that is detailed in the manual allowing easy communication. As with all Gardasoft products, all the settings are stored in non-volatile memory, and it will retain these settings even when the Ethernet connection is disconnected. Gardasoft Controllers are universally compatible with LED Vision lighting, from manufacturers such as CCS. When overdriving you may need to increase the DC power input to the controller or heat-sink the controller due to power dissipation. If this is an issue for your application we would recommend the RT200 series controller (RT260 for RS232 control), which has all of the features of the PP600 series but is based around our SafePower™ technology. The RT series will also offer you all the advantages of our patented SafeSense™ technology which is not available in the PP600 range. | Illumination | LED Lighting controllers; | Gardasoft | | Download | | | | | 2 | | 4A | 10A | P-Button | 20 | Yes | Yes | Download |
| | PP610 | To get the very best out of your LED lighting solution, in terms of brightness stability and control, the lights should be driven from a current source, not a nominal voltage supply. The Gardasoft controllers are current sources. The PP600 LED lighting controller offers two output channels which are independently controlled. Each channel can be individually configured to output continuously; or pulsed based on an external trigger signal or internal timer. The 'F' version controller will allow pulse width control down to 5µS resolution. Selected mode allows switching of the light based upon the state of an external trigger. The PP600 also has an additional mode of operation called switched mode. This enables you to very quickly change your light from one intensity setting to another simply by changing the states of the two trigger inputs (high or low). The end result is you can preset up to four different light intensity values and quickly switch from one setting to the next just by changing the states of the trigger inputs. The PP610 RS232 enabled models can be quickly configured using our free software which can be downloaded from this page. If you are using a third party software package the PP610 range has a simple command set that is detailed in the manual allowing easy communication. As with all Gardasoft products, all the settings are stored in non-volatile memory, and it will retain these settings even when the Ethernet connection is disconnected. Gardasoft Controllers are universally compatible with LED Vision lighting, from manufacturers such as CCS. When overdriving you may need to increase the DC power input to the controller or heat-sink the controller due to power dissipation. If this is an issue for your application we would recommend the RT200 series controller (RT260 for RS232 control), which has all of the features of the PP600 series but is based around our SafePower™ technology. The RT series will also offer you all the advantages of our patented SafeSense™ technology which is not available in the PP600 range. | Illumination | LED Lighting controllers; | Gardasoft | | Download | | | | | 2 | | 4A | 10A | RS232 | 20 | Yes | Yes | Download |
| | PP612 | To get the very best out of your LED lighting solution, in terms of brightness stability and control, the lights should be driven from a current source, not a nominal voltage supply. The Gardasoft controllers are current sources. The PP600 LED lighting controller offers two output channels which are independently controlled. Each channel can be individually configured to output continuously; or pulsed based on an external trigger signal or internal timer. The 'F' version controller will allow pulse width control down to 5µS resolution. Selected mode allows switching of the light based upon the state of an external trigger. The PP600 also has an additional mode of operation called switched mode. This enables you to very quickly change your light from one intensity setting to another simply by changing the states of the two trigger inputs (high or low). The end result is you can preset up to four different light intensity values and quickly switch from one setting to the next just by changing the states of the trigger inputs. The PP610 RS232 enabled models can be quickly configured using our free software which can be downloaded from this page. If you are using a third party software package the PP610 range has a simple command set that is detailed in the manual allowing easy communication. As with all Gardasoft products, all the settings are stored in non-volatile memory, and it will retain these settings even when the Ethernet connection is disconnected. Gardasoft Controllers are universally compatible with LED Vision lighting, from manufacturers such as CCS. When overdriving you may need to increase the DC power input to the controller or heat-sink the controller due to power dissipation. If this is an issue for your application we would recommend the RT200 series controller (RT260 for RS232 control), which has all of the features of the PP600 series but is based around our SafePower™ technology. The RT series will also offer you all the advantages of our patented SafeSense™ technology which is not available in the PP600 range. | Illumination | LED Lighting controllers; | Gardasoft | | Download | | | | | 2 | | 4A | 10A | RS232 | 20 | Yes | Yes | Download |
| | PP600F | To get the very best out of your LED lighting solution, in terms of brightness stability and control, the lights should be driven from a current source, not a nominal voltage supply. The Gardasoft controllers are current sources. The PP600 LED lighting controller offers two output channels which are independently controlled. Each channel can be individually configured to output continuously; or pulsed based on an external trigger signal or internal timer. The 'F' version controller will allow pulse width control down to 5µS resolution. Selected mode allows switching of the light based upon the state of an external trigger. The PP600 also has an additional mode of operation called switched mode. This enables you to very quickly change your light from one intensity setting to another simply by changing the states of the two trigger inputs (high or low). The end result is you can preset up to four different light intensity values and quickly switch from one setting to the next just by changing the states of the trigger inputs. The PP610 RS232 enabled models can be quickly configured using our free software which can be downloaded from this page. If you are using a third party software package the PP610 range has a simple command set that is detailed in the manual allowing easy communication. As with all Gardasoft products, all the settings are stored in non-volatile memory, and it will retain these settings even when the Ethernet connection is disconnected. Gardasoft Controllers are universally compatible with LED Vision lighting, from manufacturers such as CCS. When overdriving you may need to increase the DC power input to the controller or heat-sink the controller due to power dissipation. If this is an issue for your application we would recommend the RT200 series controller (RT260 for RS232 control), which has all of the features of the PP600 series but is based around our SafePower™ technology. The RT series will also offer you all the advantages of our patented SafeSense™ technology which is not available in the PP600 range. | Illumination | LED Lighting controllers; | Gardasoft | | Download | | | | | 2 | | 4A | 10A | P-Button | 5 | Yes | Yes | Download |
| | PP602F | To get the very best out of your LED lighting solution, in terms of brightness stability and control, the lights should be driven from a current source, not a nominal voltage supply. The Gardasoft controllers are current sources. The PP600 LED lighting controller offers two output channels which are independently controlled. Each channel can be individually configured to output continuously; or pulsed based on an external trigger signal or internal timer. The 'F' version controller will allow pulse width control down to 5µS resolution. Selected mode allows switching of the light based upon the state of an external trigger. The PP600 also has an additional mode of operation called switched mode. This enables you to very quickly change your light from one intensity setting to another simply by changing the states of the two trigger inputs (high or low). The end result is you can preset up to four different light intensity values and quickly switch from one setting to the next just by changing the states of the trigger inputs. The PP610 RS232 enabled models can be quickly configured using our free software which can be downloaded from this page. If you are using a third party software package the PP610 range has a simple command set that is detailed in the manual allowing easy communication. As with all Gardasoft products, all the settings are stored in non-volatile memory, and it will retain these settings even when the Ethernet connection is disconnected. Gardasoft Controllers are universally compatible with LED Vision lighting, from manufacturers such as CCS. When overdriving you may need to increase the DC power input to the controller or heat-sink the controller due to power dissipation. If this is an issue for your application we would recommend the RT200 series controller (RT260 for RS232 control), which has all of the features of the PP600 series but is based around our SafePower™ technology. The RT series will also offer you all the advantages of our patented SafeSense™ technology which is not available in the PP600 range. | Illumination | LED Lighting controllers; | Gardasoft | | Download | | | | | 2 | | 4A | 10A | P-Button | 5 | Yes | Yes | Download |
| | PP610F | To get the very best out of your LED lighting solution, in terms of brightness stability and control, the lights should be driven from a current source, not a nominal voltage supply. The Gardasoft controllers are current sources. The PP600 LED lighting controller offers two output channels which are independently controlled. Each channel can be individually configured to output continuously; or pulsed based on an external trigger signal or internal timer. The 'F' version controller will allow pulse width control down to 5µS resolution. Selected mode allows switching of the light based upon the state of an external trigger. The PP600 also has an additional mode of operation called switched mode. This enables you to very quickly change your light from one intensity setting to another simply by changing the states of the two trigger inputs (high or low). The end result is you can preset up to four different light intensity values and quickly switch from one setting to the next just by changing the states of the trigger inputs. The PP610 RS232 enabled models can be quickly configured using our free software which can be downloaded from this page. If you are using a third party software package the PP610 range has a simple command set that is detailed in the manual allowing easy communication. As with all Gardasoft products, all the settings are stored in non-volatile memory, and it will retain these settings even when the Ethernet connection is disconnected. Gardasoft Controllers are universally compatible with LED Vision lighting, from manufacturers such as CCS. When overdriving you may need to increase the DC power input to the controller or heat-sink the controller due to power dissipation. If this is an issue for your application we would recommend the RT200 series controller (RT260 for RS232 control), which has all of the features of the PP600 series but is based around our SafePower™ technology. The RT series will also offer you all the advantages of our patented SafeSense™ technology which is not available in the PP600 range. | Illumination | LED Lighting controllers; | Gardasoft | | Download | | | | | 2 | | 4A | 10A | RS232 | 5 | Yes | Yes | Download |
| | PP612F | To get the very best out of your LED lighting solution, in terms of brightness stability and control, the lights should be driven from a current source, not a nominal voltage supply. The Gardasoft controllers are current sources. The PP600 LED lighting controller offers two output channels which are independently controlled. Each channel can be individually configured to output continuously; or pulsed based on an external trigger signal or internal timer. The 'F' version controller will allow pulse width control down to 5µS resolution. Selected mode allows switching of the light based upon the state of an external trigger. The PP600 also has an additional mode of operation called switched mode. This enables you to very quickly change your light from one intensity setting to another simply by changing the states of the two trigger inputs (high or low). The end result is you can preset up to four different light intensity values and quickly switch from one setting to the next just by changing the states of the trigger inputs. The PP610 RS232 enabled models can be quickly configured using our free software which can be downloaded from this page. If you are using a third party software package the PP610 range has a simple command set that is detailed in the manual allowing easy communication. As with all Gardasoft products, all the settings are stored in non-volatile memory, and it will retain these settings even when the Ethernet connection is disconnected. Gardasoft Controllers are universally compatible with LED Vision lighting, from manufacturers such as CCS. When overdriving you may need to increase the DC power input to the controller or heat-sink the controller due to power dissipation. If this is an issue for your application we would recommend the RT200 series controller (RT260 for RS232 control), which has all of the features of the PP600 series but is based around our SafePower™ technology. The RT series will also offer you all the advantages of our patented SafeSense™ technology which is not available in the PP600 range. | Illumination | LED Lighting controllers; | Gardasoft | | Download | | | | | 2 | | 4A | 10A | RS232 | 5 | Yes | Yes | Download |
| | PP820 | To get the very best out of your LED lighting solution, in terms of brightness stability and control, the lights should be driven from a current source, not a nominal voltage supply. The Gardasoft controllers are current sources. The PP800 series LED lighting controller offers eight output channels which are independently controlled. You have two options regarding communication; RS232 (PP860 range) or Ethernet (PP820 range). The standard versions offer a maximum pulse current of 20A. There are other options which reduce the maximum pulse current to either 2A or 5A. The lower maximum pulse current gives you much finer resolution control over the output current. There are also other optional controllers within the range (suffixed with a C) that give even greater control resolution on the output. Each channel can be individually configured to output continuously; or pulsed based on an external trigger signal or internal timer. Selected mode allows switching of the light based upon the state of an external trigger. The PP800 models can be quickly configured using our free software, or for the PP820 Ethernet enabled controller range simply by accessing the controller via your internet browser; type in the IP address for the controller into your browser and you have full access to all of the parameters. If you are using a third party software package the PP800 range has a simple command set that is detailed in the manual allowing easy communication. As with all Gardasoft products, all the settings are stored in non-volatile memory, and it will retain these settings even when the Ethernet or RS232 connection is disconnected. Gardasoft Controllers are universally compatible with LED Vision lighting, from manufacturers such as CCS. When overdriving you may need to increase the DC power input to the controller or heat-sink the controller due to power dissipation. If this is an issue for your application we would recommend the RT800 series controller, which has all of the features of the PP800 series but is based around our SafePower™ technology. The RT series will also offer you all the advantages of our patented SafeSense™ technology which is not available in the PP800 range. | Illumination | LED Lighting controllers; | Gardasoft | | Download | | | | | 8 | | 2A | 20A | Ethernet | 1 | No | No | Download |
| | PP821 | To get the very best out of your LED lighting solution, in terms of brightness stability and control, the lights should be driven from a current source, not a nominal voltage supply. The Gardasoft controllers are current sources. The PP800 series LED lighting controller offers eight output channels which are independently controlled. You have two options regarding communication; RS232 (PP860 range) or Ethernet (PP820 range). The standard versions offer a maximum pulse current of 20A. There are other options which reduce the maximum pulse current to either 2A or 5A. The lower maximum pulse current gives you much finer resolution control over the output current. There are also other optional controllers within the range (suffixed with a C) that give even greater control resolution on the output. Each channel can be individually configured to output continuously; or pulsed based on an external trigger signal or internal timer. Selected mode allows switching of the light based upon the state of an external trigger. The PP800 models can be quickly configured using our free software, or for the PP820 Ethernet enabled controller range simply by accessing the controller via your internet browser; type in the IP address for the controller into your browser and you have full access to all of the parameters. If you are using a third party software package the PP800 range has a simple command set that is detailed in the manual allowing easy communication. As with all Gardasoft products, all the settings are stored in non-volatile memory, and it will retain these settings even when the Ethernet or RS232 connection is disconnected. Gardasoft Controllers are universally compatible with LED Vision lighting, from manufacturers such as CCS. When overdriving you may need to increase the DC power input to the controller or heat-sink the controller due to power dissipation. If this is an issue for your application we would recommend the RT800 series controller, which has all of the features of the PP800 series but is based around our SafePower™ technology. The RT series will also offer you all the advantages of our patented SafeSense™ technology which is not available in the PP800 range. | Illumination | LED Lighting controllers; | Gardasoft | | Download | | | | | 8 | | 2A | 20A | Ethernet | 1 | No | No | Download |
| | PP822 | To get the very best out of your LED lighting solution, in terms of brightness stability and control, the lights should be driven from a current source, not a nominal voltage supply. The Gardasoft controllers are current sources. The PP800 series LED lighting controller offers eight output channels which are independently controlled. You have two options regarding communication; RS232 (PP860 range) or Ethernet (PP820 range). The standard versions offer a maximum pulse current of 20A. There are other options which reduce the maximum pulse current to either 2A or 5A. The lower maximum pulse current gives you much finer resolution control over the output current. There are also other optional controllers within the range (suffixed with a C) that give even greater control resolution on the output. Each channel can be individually configured to output continuously; or pulsed based on an external trigger signal or internal timer. Selected mode allows switching of the light based upon the state of an external trigger. The PP800 models can be quickly configured using our free software, or for the PP820 Ethernet enabled controller range simply by accessing the controller via your internet browser; type in the IP address for the controller into your browser and you have full access to all of the parameters. If you are using a third party software package the PP800 range has a simple command set that is detailed in the manual allowing easy communication. As with all Gardasoft products, all the settings are stored in non-volatile memory, and it will retain these settings even when the Ethernet or RS232 connection is disconnected. Gardasoft Controllers are universally compatible with LED Vision lighting, from manufacturers such as CCS. When overdriving you may need to increase the DC power input to the controller or heat-sink the controller due to power dissipation. If this is an issue for your application we would recommend the RT800 series controller, which has all of the features of the PP800 series but is based around our SafePower™ technology. The RT series will also offer you all the advantages of our patented SafeSense™ technology which is not available in the PP800 range. | Illumination | LED Lighting controllers; | Gardasoft | | Download | | | | | 8 | | 2A | 2A | Ethernet | 1 | No | No | Download |
| | PP820C | To get the very best out of your LED lighting solution, in terms of brightness stability and control, the lights should be driven from a current source, not a nominal voltage supply. The Gardasoft controllers are current sources. The PP800 series LED lighting controller offers eight output channels which are independently controlled. You have two options regarding communication; RS232 (PP860 range) or Ethernet (PP820 range). The standard versions offer a maximum pulse current of 20A. There are other options which reduce the maximum pulse current to either 2A or 5A. The lower maximum pulse current gives you much finer resolution control over the output current. There are also other optional controllers within the range (suffixed with a C) that give even greater control resolution on the output. Each channel can be individually configured to output continuously; or pulsed based on an external trigger signal or internal timer. Selected mode allows switching of the light based upon the state of an external trigger. The PP800 models can be quickly configured using our free software, or for the PP820 Ethernet enabled controller range simply by accessing the controller via your internet browser; type in the IP address for the controller into your browser and you have full access to all of the parameters. If you are using a third party software package the PP800 range has a simple command set that is detailed in the manual allowing easy communication. As with all Gardasoft products, all the settings are stored in non-volatile memory, and it will retain these settings even when the Ethernet or RS232 connection is disconnected. Gardasoft Controllers are universally compatible with LED Vision lighting, from manufacturers such as CCS. When overdriving you may need to increase the DC power input to the controller or heat-sink the controller due to power dissipation. If this is an issue for your application we would recommend the RT800 series controller, which has all of the features of the PP800 series but is based around our SafePower™ technology. The RT series will also offer you all the advantages of our patented SafeSense™ technology which is not available in the PP800 range. | Illumination | LED Lighting controllers; | Gardasoft | | Download | | | | | 8 | | 2A | 2A | Ethernet | 1 | No | No | Download |
| | PP821C | To get the very best out of your LED lighting solution, in terms of brightness stability and control, the lights should be driven from a current source, not a nominal voltage supply. The Gardasoft controllers are current sources. The PP800 series LED lighting controller offers eight output channels which are independently controlled. You have two options regarding communication; RS232 (PP860 range) or Ethernet (PP820 range). The standard versions offer a maximum pulse current of 20A. There are other options which reduce the maximum pulse current to either 2A or 5A. The lower maximum pulse current gives you much finer resolution control over the output current. There are also other optional controllers within the range (suffixed with a C) that give even greater control resolution on the output. Each channel can be individually configured to output continuously; or pulsed based on an external trigger signal or internal timer. Selected mode allows switching of the light based upon the state of an external trigger. The PP800 models can be quickly configured using our free software, or for the PP820 Ethernet enabled controller range simply by accessing the controller via your internet browser; type in the IP address for the controller into your browser and you have full access to all of the parameters. If you are using a third party software package the PP800 range has a simple command set that is detailed in the manual allowing easy communication. As with all Gardasoft products, all the settings are stored in non-volatile memory, and it will retain these settings even when the Ethernet or RS232 connection is disconnected. Gardasoft Controllers are universally compatible with LED Vision lighting, from manufacturers such as CCS. When overdriving you may need to increase the DC power input to the controller or heat-sink the controller due to power dissipation. If this is an issue for your application we would recommend the RT800 series controller, which has all of the features of the PP800 series but is based around our SafePower™ technology. The RT series will also offer you all the advantages of our patented SafeSense™ technology which is not available in the PP800 range. | Illumination | LED Lighting controllers; | Gardasoft | | Download | | | | | 8 | | 2A | 5A | Ethernet | 1 | No | No | Download |
| | PP822C | To get the very best out of your LED lighting solution, in terms of brightness stability and control, the lights should be driven from a current source, not a nominal voltage supply. The Gardasoft controllers are current sources. The PP800 series LED lighting controller offers eight output channels which are independently controlled. You have two options regarding communication; RS232 (PP860 range) or Ethernet (PP820 range). The standard versions offer a maximum pulse current of 20A. There are other options which reduce the maximum pulse current to either 2A or 5A. The lower maximum pulse current gives you much finer resolution control over the output current. There are also other optional controllers within the range (suffixed with a C) that give even greater control resolution on the output. Each channel can be individually configured to output continuously; or pulsed based on an external trigger signal or internal timer. Selected mode allows switching of the light based upon the state of an external trigger. The PP800 models can be quickly configured using our free software, or for the PP820 Ethernet enabled controller range simply by accessing the controller via your internet browser; type in the IP address for the controller into your browser and you have full access to all of the parameters. If you are using a third party software package the PP800 range has a simple command set that is detailed in the manual allowing easy communication. As with all Gardasoft products, all the settings are stored in non-volatile memory, and it will retain these settings even when the Ethernet or RS232 connection is disconnected. Gardasoft Controllers are universally compatible with LED Vision lighting, from manufacturers such as CCS. When overdriving you may need to increase the DC power input to the controller or heat-sink the controller due to power dissipation. If this is an issue for your application we would recommend the RT800 series controller, which has all of the features of the PP800 series but is based around our SafePower™ technology. The RT series will also offer you all the advantages of our patented SafeSense™ technology which is not available in the PP800 range. | Illumination | LED Lighting controllers; | Gardasoft | | Download | | | | | 8 | | 2A | 5A | Ethernet | 1 | No | No | Download |
| | PP860 | To get the very best out of your LED lighting solution, in terms of brightness stability and control, the lights should be driven from a current source, not a nominal voltage supply. The Gardasoft controllers are current sources. The PP800 series LED lighting controller offers eight output channels which are independently controlled. You have two options regarding communication; RS232 (PP860 range) or Ethernet (PP820 range). The standard versions offer a maximum pulse current of 20A. There are other options which reduce the maximum pulse current to either 2A or 5A. The lower maximum pulse current gives you much finer resolution control over the output current. There are also other optional controllers within the range (suffixed with a C) that give even greater control resolution on the output. Each channel can be individually configured to output continuously; or pulsed based on an external trigger signal or internal timer. Selected mode allows switching of the light based upon the state of an external trigger. The PP800 models can be quickly configured using our free software, or for the PP820 Ethernet enabled controller range simply by accessing the controller via your internet browser; type in the IP address for the controller into your browser and you have full access to all of the parameters. If you are using a third party software package the PP800 range has a simple command set that is detailed in the manual allowing easy communication. As with all Gardasoft products, all the settings are stored in non-volatile memory, and it will retain these settings even when the Ethernet or RS232 connection is disconnected. Gardasoft Controllers are universally compatible with LED Vision lighting, from manufacturers such as CCS. When overdriving you may need to increase the DC power input to the controller or heat-sink the controller due to power dissipation. If this is an issue for your application we would recommend the RT800 series controller, which has all of the features of the PP800 series but is based around our SafePower™ technology. The RT series will also offer you all the advantages of our patented SafeSense™ technology which is not available in the PP800 range. | Illumination | LED Lighting controllers; | Gardasoft | | Download | | | | | 8 | | 2A | 20A | RS232 | 1 | No | No | Download |
| | PP861 | To get the very best out of your LED lighting solution, in terms of brightness stability and control, the lights should be driven from a current source, not a nominal voltage supply. The Gardasoft controllers are current sources. The PP800 series LED lighting controller offers eight output channels which are independently controlled. You have two options regarding communication; RS232 (PP860 range) or Ethernet (PP820 range). The standard versions offer a maximum pulse current of 20A. There are other options which reduce the maximum pulse current to either 2A or 5A. The lower maximum pulse current gives you much finer resolution control over the output current. There are also other optional controllers within the range (suffixed with a C) that give even greater control resolution on the output. Each channel can be individually configured to output continuously; or pulsed based on an external trigger signal or internal timer. Selected mode allows switching of the light based upon the state of an external trigger. The PP800 models can be quickly configured using our free software, or for the PP820 Ethernet enabled controller range simply by accessing the controller via your internet browser; type in the IP address for the controller into your browser and you have full access to all of the parameters. If you are using a third party software package the PP800 range has a simple command set that is detailed in the manual allowing easy communication. As with all Gardasoft products, all the settings are stored in non-volatile memory, and it will retain these settings even when the Ethernet or RS232 connection is disconnected. Gardasoft Controllers are universally compatible with LED Vision lighting, from manufacturers such as CCS. When overdriving you may need to increase the DC power input to the controller or heat-sink the controller due to power dissipation. If this is an issue for your application we would recommend the RT800 series controller, which has all of the features of the PP800 series but is based around our SafePower™ technology. The RT series will also offer you all the advantages of our patented SafeSense™ technology which is not available in the PP800 range. | Illumination | LED Lighting controllers; | Gardasoft | | Download | | | | | 8 | | 2A | 20A | RS232 | 1 | No | No | Download |
| | PP862 | To get the very best out of your LED lighting solution, in terms of brightness stability and control, the lights should be driven from a current source, not a nominal voltage supply. The Gardasoft controllers are current sources. The PP800 series LED lighting controller offers eight output channels which are independently controlled. You have two options regarding communication; RS232 (PP860 range) or Ethernet (PP820 range). The standard versions offer a maximum pulse current of 20A. There are other options which reduce the maximum pulse current to either 2A or 5A. The lower maximum pulse current gives you much finer resolution control over the output current. There are also other optional controllers within the range (suffixed with a C) that give even greater control resolution on the output. Each channel can be individually configured to output continuously; or pulsed based on an external trigger signal or internal timer. Selected mode allows switching of the light based upon the state of an external trigger. The PP800 models can be quickly configured using our free software, or for the PP820 Ethernet enabled controller range simply by accessing the controller via your internet browser; type in the IP address for the controller into your browser and you have full access to all of the parameters. If you are using a third party software package the PP800 range has a simple command set that is detailed in the manual allowing easy communication. As with all Gardasoft products, all the settings are stored in non-volatile memory, and it will retain these settings even when the Ethernet or RS232 connection is disconnected. Gardasoft Controllers are universally compatible with LED Vision lighting, from manufacturers such as CCS. When overdriving you may need to increase the DC power input to the controller or heat-sink the controller due to power dissipation. If this is an issue for your application we would recommend the RT800 series controller, which has all of the features of the PP800 series but is based around our SafePower™ technology. The RT series will also offer you all the advantages of our patented SafeSense™ technology which is not available in the PP800 range. | Illumination | LED Lighting controllers; | Gardasoft | | Download | | | | | 8 | | 2A | 2A | RS232 | 1 | No | No | Download |
| | PP860C | To get the very best out of your LED lighting solution, in terms of brightness stability and control, the lights should be driven from a current source, not a nominal voltage supply. The Gardasoft controllers are current sources. The PP800 series LED lighting controller offers eight output channels which are independently controlled. You have two options regarding communication; RS232 (PP860 range) or Ethernet (PP820 range). The standard versions offer a maximum pulse current of 20A. There are other options which reduce the maximum pulse current to either 2A or 5A. The lower maximum pulse current gives you much finer resolution control over the output current. There are also other optional controllers within the range (suffixed with a C) that give even greater control resolution on the output. Each channel can be individually configured to output continuously; or pulsed based on an external trigger signal or internal timer. Selected mode allows switching of the light based upon the state of an external trigger. The PP800 models can be quickly configured using our free software, or for the PP820 Ethernet enabled controller range simply by accessing the controller via your internet browser; type in the IP address for the controller into your browser and you have full access to all of the parameters. If you are using a third party software package the PP800 range has a simple command set that is detailed in the manual allowing easy communication. As with all Gardasoft products, all the settings are stored in non-volatile memory, and it will retain these settings even when the Ethernet or RS232 connection is disconnected. Gardasoft Controllers are universally compatible with LED Vision lighting, from manufacturers such as CCS. When overdriving you may need to increase the DC power input to the controller or heat-sink the controller due to power dissipation. If this is an issue for your application we would recommend the RT800 series controller, which has all of the features of the PP800 series but is based around our SafePower™ technology. The RT series will also offer you all the advantages of our patented SafeSense™ technology which is not available in the PP800 range. | Illumination | LED Lighting controllers; | Gardasoft | | Download | | | | | 8 | | 2A | 2A | RS232 | 1 | No | No | Download |
| | PP861C | To get the very best out of your LED lighting solution, in terms of brightness stability and control, the lights should be driven from a current source, not a nominal voltage supply. The Gardasoft controllers are current sources. The PP800 series LED lighting controller offers eight output channels which are independently controlled. You have two options regarding communication; RS232 (PP860 range) or Ethernet (PP820 range). The standard versions offer a maximum pulse current of 20A. There are other options which reduce the maximum pulse current to either 2A or 5A. The lower maximum pulse current gives you much finer resolution control over the output current. There are also other optional controllers within the range (suffixed with a C) that give even greater control resolution on the output. Each channel can be individually configured to output continuously; or pulsed based on an external trigger signal or internal timer. Selected mode allows switching of the light based upon the state of an external trigger. The PP800 models can be quickly configured using our free software, or for the PP820 Ethernet enabled controller range simply by accessing the controller via your internet browser; type in the IP address for the controller into your browser and you have full access to all of the parameters. If you are using a third party software package the PP800 range has a simple command set that is detailed in the manual allowing easy communication. As with all Gardasoft products, all the settings are stored in non-volatile memory, and it will retain these settings even when the Ethernet or RS232 connection is disconnected. Gardasoft Controllers are universally compatible with LED Vision lighting, from manufacturers such as CCS. When overdriving you may need to increase the DC power input to the controller or heat-sink the controller due to power dissipation. If this is an issue for your application we would recommend the RT800 series controller, which has all of the features of the PP800 series but is based around our SafePower™ technology. The RT series will also offer you all the advantages of our patented SafeSense™ technology which is not available in the PP800 range. | Illumination | LED Lighting controllers; | Gardasoft | | Download | | | | | 8 | | 2A | 5A | RS232 | 1 | No | No | Download |
| | PP862C | To get the very best out of your LED lighting solution, in terms of brightness stability and control, the lights should be driven from a current source, not a nominal voltage supply. The Gardasoft controllers are current sources. The PP800 series LED lighting controller offers eight output channels which are independently controlled. You have two options regarding communication; RS232 (PP860 range) or Ethernet (PP820 range). The standard versions offer a maximum pulse current of 20A. There are other options which reduce the maximum pulse current to either 2A or 5A. The lower maximum pulse current gives you much finer resolution control over the output current. There are also other optional controllers within the range (suffixed with a C) that give even greater control resolution on the output. Each channel can be individually configured to output continuously; or pulsed based on an external trigger signal or internal timer. Selected mode allows switching of the light based upon the state of an external trigger. The PP800 models can be quickly configured using our free software, or for the PP820 Ethernet enabled controller range simply by accessing the controller via your internet browser; type in the IP address for the controller into your browser and you have full access to all of the parameters. If you are using a third party software package the PP800 range has a simple command set that is detailed in the manual allowing easy communication. As with all Gardasoft products, all the settings are stored in non-volatile memory, and it will retain these settings even when the Ethernet or RS232 connection is disconnected. Gardasoft Controllers are universally compatible with LED Vision lighting, from manufacturers such as CCS. When overdriving you may need to increase the DC power input to the controller or heat-sink the controller due to power dissipation. If this is an issue for your application we would recommend the RT800 series controller, which has all of the features of the PP800 series but is based around our SafePower™ technology. The RT series will also offer you all the advantages of our patented SafeSense™ technology which is not available in the PP800 range. | Illumination | LED Lighting controllers; | Gardasoft | | Download | | | | | 8 | | 2A | 5A | RS232 | 1 | No | No | Download |
| | PP1620 | To get the very best out of your LED lighting solution, in terms of brightness stability and control, the lights should be driven from a current source, not a nominal voltage supply. The Gardasoft controllers are current sources. The PP1600 series LED lighting controller offers 16 output channels which are independently controlled. You have two options regarding communication; RS232 (PP1660 range) or Ethernet (PP1620 range). The standard versions offer a maximum pulse current of 20A. There are other options which reduce the maximum pulse current to 2A. Each channel can be individually configured to output continuously; or pulsed based on an external trigger signal or internal timer. The PP1600 models can be quickly configured using our free software, or for the PP1620 Ethernet enabled controller range simply by accessing the controller via your internet browser; type in the IP address for the controller into your browser and you have full access to all of the parameters. If you are using a third party software package the PP1600 range has a simple command set that is detailed in the manual allowing easy communication. As with all Gardasoft products, all the settings are stored in non-volatile memory, and it will retain these settings even when the Ethernet or RS232 connection is disconnected. Gardasoft Controllers are universally compatible with LED Vision lighting, from manufacturers such as CCS and others. | Illumination | LED Lighting controllers; | Gardasoft | | Download | | | | | 8 | | 2A | 20A | Ethernet | 1 | No | No | Download |
| | PP1621 | To get the very best out of your LED lighting solution, in terms of brightness stability and control, the lights should be driven from a current source, not a nominal voltage supply. The Gardasoft controllers are current sources. The PP1600 series LED lighting controller offers 16 output channels which are independently controlled. You have two options regarding communication; RS232 (PP1660 range) or Ethernet (PP1620 range). The standard versions offer a maximum pulse current of 20A. There are other options which reduce the maximum pulse current to 2A. Each channel can be individually configured to output continuously; or pulsed based on an external trigger signal or internal timer. The PP1600 models can be quickly configured using our free software, or for the PP1620 Ethernet enabled controller range simply by accessing the controller via your internet browser; type in the IP address for the controller into your browser and you have full access to all of the parameters. If you are using a third party software package the PP1600 range has a simple command set that is detailed in the manual allowing easy communication. As with all Gardasoft products, all the settings are stored in non-volatile memory, and it will retain these settings even when the Ethernet or RS232 connection is disconnected. Gardasoft Controllers are universally compatible with LED Vision lighting, from manufacturers such as CCS and others. | Illumination | LED Lighting controllers; | Gardasoft | | Download | | | | | 8 | | 2A | 2A | Ethernet | 1 | No | No | Download |
| | PP1660 | To get the very best out of your LED lighting solution, in terms of brightness stability and control, the lights should be driven from a current source, not a nominal voltage supply. The Gardasoft controllers are current sources. The PP1600 series LED lighting controller offers 16 output channels which are independently controlled. You have two options regarding communication; RS232 (PP1660 range) or Ethernet (PP1620 range). The standard versions offer a maximum pulse current of 20A. There are other options which reduce the maximum pulse current to 2A. Each channel can be individually configured to output continuously; or pulsed based on an external trigger signal or internal timer. The PP1600 models can be quickly configured using our free software, or for the PP1620 Ethernet enabled controller range simply by accessing the controller via your internet browser; type in the IP address for the controller into your browser and you have full access to all of the parameters. If you are using a third party software package the PP1600 range has a simple command set that is detailed in the manual allowing easy communication. As with all Gardasoft products, all the settings are stored in non-volatile memory, and it will retain these settings even when the Ethernet or RS232 connection is disconnected. Gardasoft Controllers are universally compatible with LED Vision lighting, from manufacturers such as CCS and others. | Illumination | LED Lighting controllers; | Gardasoft | | Download | | | | | 8 | | 2A | 20A | RS232 | 1 | No | No | Download |
| | PP1661 | To get the very best out of your LED lighting solution, in terms of brightness stability and control, the lights should be driven from a current source, not a nominal voltage supply. The Gardasoft controllers are current sources. The PP1600 series LED lighting controller offers 16 output channels which are independently controlled. You have two options regarding communication; RS232 (PP1660 range) or Ethernet (PP1620 range). The standard versions offer a maximum pulse current of 20A. There are other options which reduce the maximum pulse current to 2A. Each channel can be individually configured to output continuously; or pulsed based on an external trigger signal or internal timer. The PP1600 models can be quickly configured using our free software, or for the PP1620 Ethernet enabled controller range simply by accessing the controller via your internet browser; type in the IP address for the controller into your browser and you have full access to all of the parameters. If you are using a third party software package the PP1600 range has a simple command set that is detailed in the manual allowing easy communication. As with all Gardasoft products, all the settings are stored in non-volatile memory, and it will retain these settings even when the Ethernet or RS232 connection is disconnected. Gardasoft Controllers are universally compatible with LED Vision lighting, from manufacturers such as CCS and others. | Illumination | LED Lighting controllers; | Gardasoft | | Download | | | | | 8 | | 2A | 2A | RS232 | 1 | No | No | |