Camera Link Splitters
Camera Link splitters are used to distribute video from camera to multiple frame grabbers using standard Camera Link cables.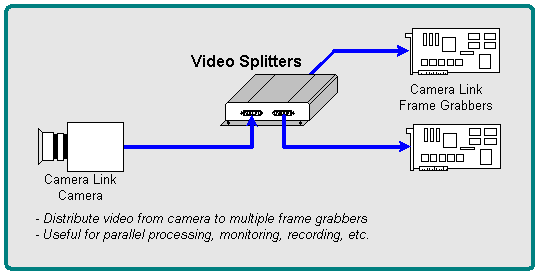 Individual parts of images can be defined and processed for every acquisition board individually. This extension thus enables the processing of large amounts of data on the CPU.
It is useful for parallel processing, monitoring, recording, or for the reduction of data bandwidth distribution.
Let us help you find the video splitter that best suits your needs!
Find the video splitter that is best for you
Using our advanced search engine, you can locate the video splitter most suited to your needs
Camera Link Splitters Products
| | Part # | Description | CATEGORY | SUB CATEGORY | MANUFACTURER | Datasheet | IF Side1 | IF Side2 | Freq range [MHz] | USERMANUAL |
| --- | --- | --- | --- | --- | --- | --- | --- | --- | --- | --- |
| | CLV-401A | | Accessories | CameraLink Splitter; | Vivid | Download | Camera Link Base | Camera Link Base | 20-85 | Download |
| | CLV-402 | | Accessories | CameraLink Splitter; | Vivid | Download | Camera Link Base,Camera Link Medium,Camera Link Full | Camera Link Base,Camera Link Medium,Camera Link Full | 20-85 | Download |
| | CLV-403 | | Accessories | CameraLink Splitter; | Vivid | Download | Camera Link Base | Camera Link Base | 20-85 | Download |
| | CLV-411 | | Accessories | CameraLink Splitter; | Vivid | Download | Camera Link Base | Camera Link Base | 20-85 | Download |
| | CLV-412 | | Accessories | CameraLink Splitter; | Vivid | Download | Camera Link Base,Camera Link Medium,Camera Link Full | Camera Link Base,Camera Link Medium,Camera Link Full | 20-85 | Download |