High-speed DVR for long duration recording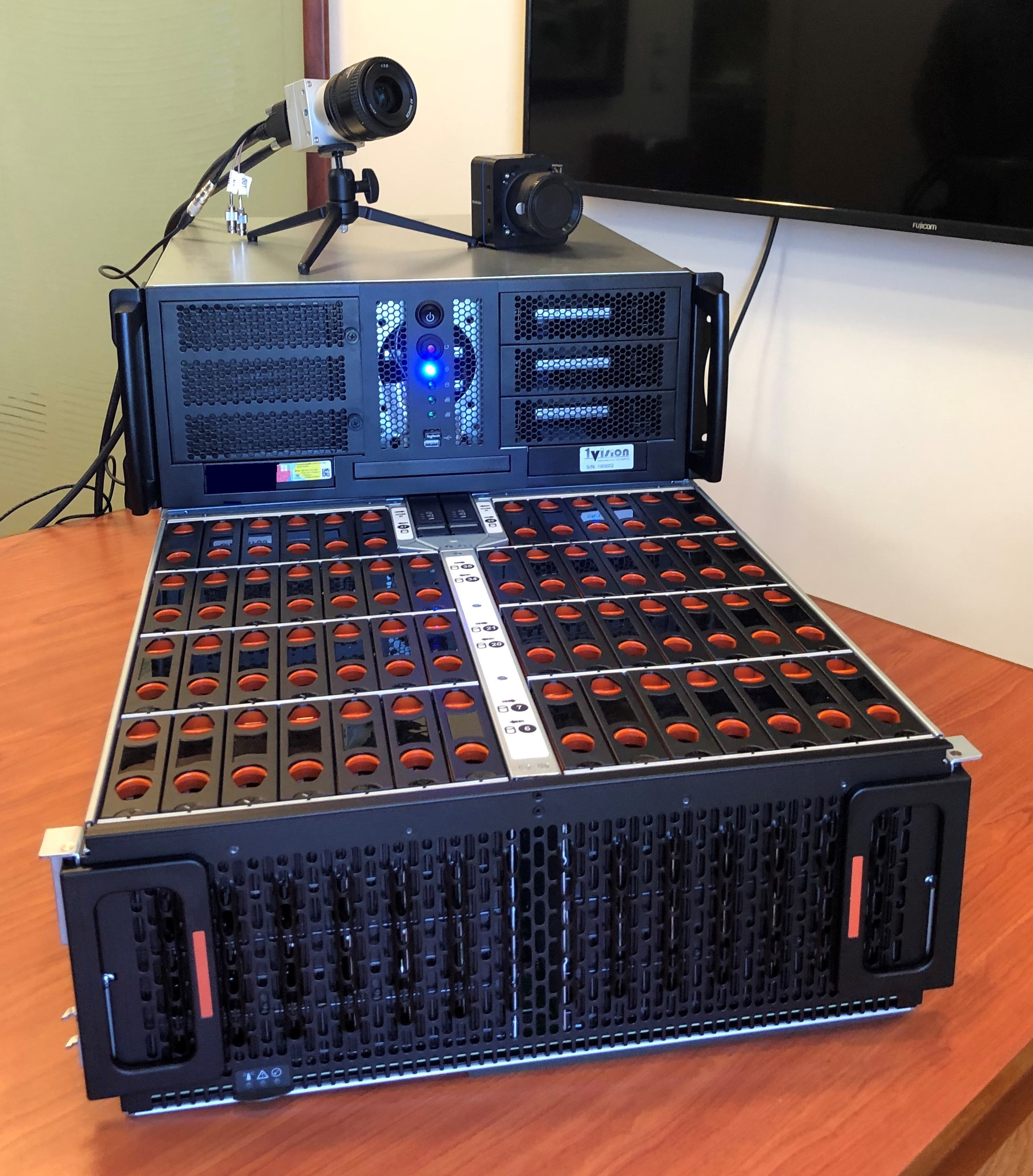 High-speed recording and playback system installed by 1Vision at the Neurobiology department of Weizmann institute
The system includes two main components:
Acquisition and temporary storage server
Long duration high-speed storage
The main task provided by the system is real-time synchronized acquisition of high-resolution, high-speed video from two sources.
The video sources are Optronis CL600 cameras which deliver 1280X1024 @ 500 frames/sec and those are recorded in parallel.
Cameras interface is Camera-Link Full 10 taps, using the MDR26 connector.
Each camera is recording to an SSD based RAID0 storage that can hold up to 30 minutes of uncompressed video data. Each recorded session is transferred to the long duration storage, currently supporting 600TB with option to increase storage capacity.
The recording software used for the system is Streampix by Norpix, allowing real-time visualization of the data and control over the cameras, while seamless recording the video from all sources. Embedded modules and scripting are developed by 1Vision for customization of the recording procedure and adaptation to the required scenario.
The recording server is a Supermicro X11SPL-F board platform equipped with XEON processing capability.
The storage is based on the Western Digital UltraStar Data102 storage platform, equipped with dual redundant I/O modules.
Included hard drives are UltraStar Helios NL – SAS interface, specifically designed for heavy-duty data centers and sequential writing.
The connection between the recording system and the storage system is provided using Broadcom Mega RAID SAS 9380-8e with redundant connection (using mini-SAS HD), providing high-throughput.
For external data transfer to and from the system, an additional 10GbE interface is used, allowing fast downloading of the video data for further processing on external cluster.
The system developed and integrated by 1Vision is used for behavioral research at the Neurobiology department of the Weizmann Institute.