TR-HT series are the highest power LED lighting controllers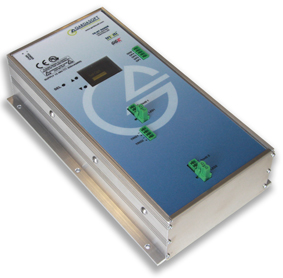 TR-HT series are the highest power LED lighting controllers
11 July, 2019
Gardasoft's new TR-HT series are the highest power LED lighting controllers currently available for machine vision applications. With 2 independent output channels, each rated at 150W and each capable of delivering 50A in pulsed mode and 5A in continuous mode, these new models are ideally suited to driving high power LED area and LED bar lights.
Dual range output current allows fine tuning at low currents, with resolution from 0.6mA to 15mA. Pulsed output current can be controlled in steps of 0.6mA for currents less than or equal to 2A and steps of 15mA for currents above 2A. The controllers offer fast pulsing to 100KHz and fast change of intensity configuration. Long high current pulses are also possible thanks to increased current storage capacity.
All TR-HT controllers have options to be configured via 100base-T Ethernet or RS232 (with the additional ability to program via front panel push-buttons). In ddition, the controllers are GigE Vision compliant and can form part of the Gardasoft Triniti machine vision platform; this enables expert control, operational intelligence and full integration of machine vision lighting, all within a 'plug and play' environment.
The TR-HT Series benefits from SafePower™ and patented SafeSense™ technology. SafePower automatically adjusts the supply voltage to make most efficient use of the power. This allows the output voltage to the lighting to be higher than the supply voltage without limitations on pulse frequency. SafeSense creates a safe working environment for controllers that overdrive LED lights using constant current in order to generate much increased light intensity for machine vision applications. SafeSense ensures that the pulse width and duty cycle cannot exceed acceptable limits.
The versatile TR-HT series has four modes of operation. The controllers can be run with a continuous level output or with output pulsed once per trigger input. Alternatively, a digital input can be used to switch the output or to select the output intensit
TR-HT High power LED Controller specification
Specifications
Parameter
TR-HT220
TR-HT260
User interface
Ethernet + front panel
RS232 + front panel
Output channels
Two independent precision constant current outputs
Output channels (continuous)
5A max per channel (within 150W envelope)
Output current (pulsed)
50A max per channel (within 150W envelope)
In steps of 0.6mA for currents ≤2A
In steps of 15mA for currents >2A
Output power
150W max average power per channel, 300W max total