IMAGE-BASED ID READERS
Image based readers offer image-analysis-based automation of product identification processes, such as scanning the dimensions of parcels to ensure accurate billing or the sorting of tires in a production environment.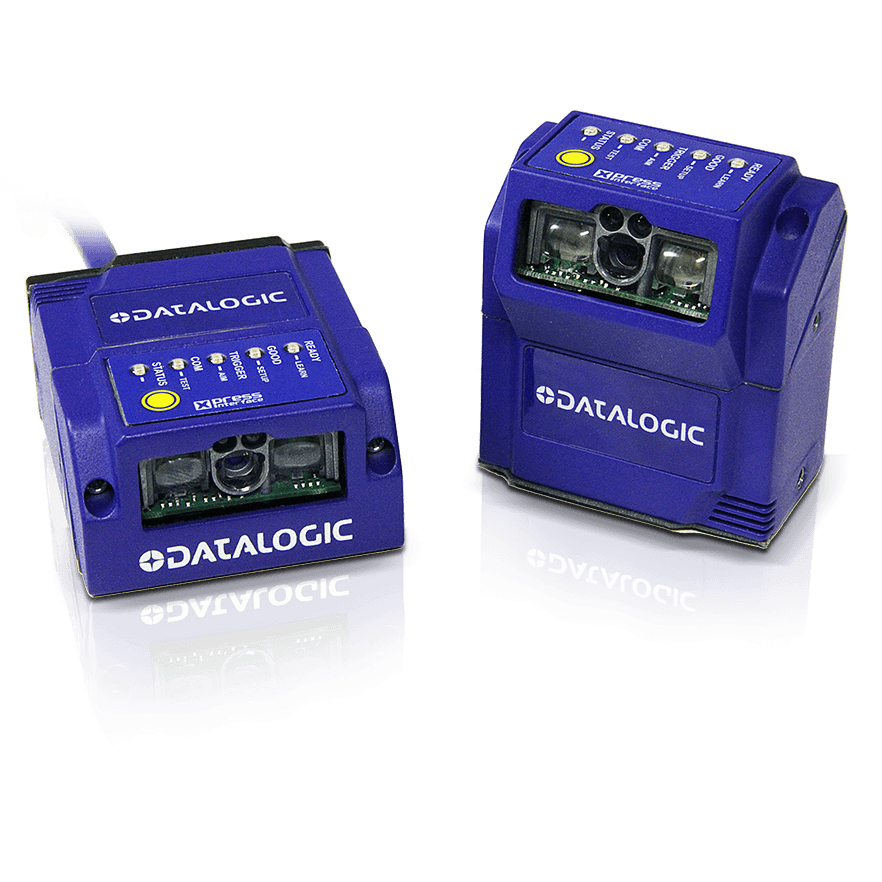 1Vision offers a wide selection of Datalogic high performance 2D imagers suitable for use in industrial applications in the Electronic, Automotive, Pharma, Food and Beverage and Logistic industries.
Let us help you find the reader that best suits your needs!
Finding the reader that is best for you
Using our advanced search engine you can locate the reader most suited to your needs.
IMAGE-BASED ID READERS Products
Part #
Description
CATEGORY
SUB CATEGORY
FrameRate [f/s]
Interface
MANUFACTURER
Size
Datasheet
Type
Weight[g]
USERMANUAL
Frame_Rate_Range
Matrix 210N™
Datalogic's Matrix 210N™ offers extreme reading performance and integrated Ethernet, Ethernet/IP and PROFINET in an ultra-compact housing. With a WVGA image sensor able to capture up to 60 frames per second, and a flexible and powerful illuminator, the Matrix 210™ offers best-in-class direct part marked bar code reading capabilities. The unrivaled decoding libraries running on the high speed hardware platform deliver superior reading performance and impressive decoding rates, supporting high system throughput which delivers overall production efficiency. Both read data and captured images are transferred using the on-board Ethernet ports. The captured images can be either saved internally or easily and quickly uploaded to external PCs for storage or offline analysis. Compact dimensions with straight or right angle optical options and electronic variable focus option, provides superb contact reading capability and a simple mechanical integration into tight spaces. Installation and maintenance are extremely easy with the X-PRESS™ Interface. X-PRESS features a five LED bar graph with a multifunction key for immediate access to functions such as Aiming, Setup, Automatic Learning, and Test Mode. The Green Spot - projected onto the scanned object – provides easy and real-time feedback of the reading status without any additional software or accessories.
Barcode
IMAGE-BASED ID READERS;
60
Ethernet/USB
datalogic
54X32X45
Download
2D
d: 36~100
Matrix 410N™
Matrix 410N™ is an industrial 2D imager for traceability applications in material handling and logistic environments. Matrix 410N™ is equipped with a ultra-fast image sensor, scanning at 2.0 MPixels, with a frame rate of 45 fps. Ethernet connectivity is embedded, including standard communication services (TCP/IP, HTTP, FTP) and the most common industrial fieldbuses, as PROFINET IO, ETHERNET/IP, MODBUS TCP. Matrix 410N is flexible, easily configurable as single device reading station or in a multiple device layout, in order to scan over larger areas or multiple sides. Matrix 410N offers image saving functions for reading cases review (as No Reads). Up to 3.000 images can be stored on board or transfer to an external FTP clients. Matrix 410N is "ease of use": the DL.CODE software enables graphical setup and supports in-line monitoring functionalities, including live image display, reading statistics and diagnostics. The embedded laser aimer and the patented Green Spot - projected into the scanning area - permit to user a quick scanning area determination and to easily acknowledge a reading without any external accessory or software.
Barcode
IMAGE-BASED ID READERS;
60
Ethernet
datalogic
123X61X87
Download
2D
d: 36~100
Matrix 450™
The new Matrix 450N high-end industrial 2D imager is designed for logistic applications. Matrix 450N imager embeds the standard Matrix Series configuration software DL.Code. The DL.Code software tremendously improves the ease of setup and is intuitive for the user. The Matrix 450N imager perfectly meets the requirements of both automated and manual material handling. It is a top performing 2D imager that has superior reading performance and is able to provide higher customer productivity with reduced labor costs.
Barcode
IMAGE-BASED ID READERS;
15
Ethernet
datalogic
170X200X150
Download
2D
b: 11~24
XRF410N™
The XRF410N™, named for its extended Reading Field, is a solution based on the new Matrix 410N™ platform for material handling and sortation in the logistics industry. XRF410N™ is designed and built for a broad variety of material handling applications with transportation speeds up to 2.2 m/s (433 fpm) for medium sized objects, with typical scanning depths of 400 mm (15.7 in.). The XRF410N™ is the perfect solution for e-commerce small object automated order fulfilment systems or postal logistics flats sortation applications.
Barcode
IMAGE-BASED ID READERS;
Ethernet
datalogic
Download
2D
STS400™
STS400™ is Datalogic Automation state-of-the-art solution for tire sorting. Extremely compact and based on a self-contained structure. The solution excels in delivering top reading performance with simplicity of installation and maintenance. For example the solution is pre-assembled and calibrated, making integration into a tire sorting system quicker than ever. In less than one hour, with no special tools or training, the STS400™ can go from the shipping carton to reading tires in the production line!
Barcode
IMAGE-BASED ID READERS;
Ethernet
datalogic
Download
2D
TC1200
TC1200 represents the state-of-the-art-technology in CCD technology setting new standard in Auto-ID market for OEM applications and entry level Factory Automation. Thanks to innovative CCD technology, TC1200 offers excellent reading performance, great decoding capability, outstanding product reliability combined with ease to use HMI interface. TC1200 is also available in Scan Engine package very useful for applications where the CCD reader is applied inside a machine.
Barcode
IMAGE-BASED ID READERS;
320
USB
datalogic
57X31X50
Download
f: 201~750
NVS9000™
The NVS9000™ is the Datalogic industrial high-end camera system, designed to drastically improve the productivity of postal, mail order and distribution companies. NVS9000™ embeds the latest and most powerful camera technology of the market into a modular, easy and reliable product. NVS9000™ delivers top reading performance, simple integration, easy installation and top industrial reliability for a very low customer total cost of ownership.
Barcode
IMAGE-BASED ID READERS;
240
Ethernet
datalogic
Download
Courier
f: 201~750
Matrix 120™

Matrix 120™ is the smallest ultra-compact industrial 2D imager in the market that fits into any integration space and embeds Ethernet connectivity. This is the newest entry level member of the best-in-class Matrix family of high performance industrial 2D imagers.

The Matrix 120 is the perfect solution when small dimension, simple integration and performance are the key drivers. This makes the Matrix 120 the ideal product for OEM customers: Chemical/Biomedical industry and Print & Apply applications. Additionally, this imager is perfect for entry level applications in the Factory Automation arena: Electronics, Packaging and Food/Beverage.

The Matrix 120 is available in different models, including a WVGA sensor for standard applications or a 1.2 MP sensor for high resolution barcodes. Moreover, the wide-angle version makes the Matrix 120 the perfect solution for proximity reading and with the polarized model a 90° mounting is possible also over reflecting surfaces.

The Matrix 120 with the red-light model is the first stationary industrial scanner in the market able to read Digimarc Barcode for added value decoding applications.

The Matrix 120 features the top industrial grade parts in its class (IP65 and 0-45 ºC / 32 – 113 ºF), with ESD safe models for applications in the electronic industry and a glass-free reading window, suitable for the Food and Beverage environment.

Sulfur gas protection allows the use of Matrix 120 in Tire applications through rough manufacturing, final finishing and inspection stations.

As part of the full Matrix series, the Matrix 120 leads the market for customer ease of use because of DL.CODE™ configuration software, X-Press™ button and intuitive HMI.

Barcode
IMAGE-BASED ID READERS;
60
Ethernet/USB
datalogic
45.4x31.1x23.5
Download
2D
Download
d: 36~100
Matrix 220™
Barcode
IMAGE-BASED ID READERS;
45
POE
datalogic
78x47x38
Download
d: 36~100
Matrix 320™

Matrix 320 image based code reader has been designed to EMPOWER TRACEABILITY applications providing benefits for End Users and Machine Builders. Matrix 320 brilliantly solves traceability applications in Intralogistics, Distribution, 3PL, Retail logistics and the Shop Floor.

Matrix 320 offers a COMPLETE SOLUTION and TOP PERFORMANCE to achieve higher productivity at the best price/performance ratio with its superior 2MP sensor (1920 × 1080 pixels with a 16:9 form factor), achieving an extra large Field of View (FOV) on horizontal axis that competes against 3MP readers.

Matrix 320 has excellent reading performance on label and high resolution DPM with a powerful Smart configurable lighting allowing 3 color options able to solve extremely challenging traceability applications. To boost productivity in Intralogistics and Logistics segments, hands-free operations enjoy higher performance with Matrix 320 snappy reactivity and its outstanding Depth of Field (DOF).

Matrix 320 provides the highest market application flexibility with a modular design, a reduced number of models complemented by a complete portfolio of lenses, lightings, filters, and accessories.

Embedded electronic focus dramatically reduces installation time and allows easy reconfiguration improving production flexibility in line with Industry 4.0 requirements. Matrix 320 is very easy to install with its improved integrated aiming system, X-Press button HMI and DL.Code software powered by easy and intuitive autolearning/ autosetup features.

Full industrial connectivity, overall compactness, rotating connectors and a top industrial grade make Matrix 320 extremely easy to fit into every industrial environment. New configurable 360-degree multicolor read-feedback and Green / Red Spot technology provide an outstanding visual feedback. Performance Analysis is also simplified by a new web interface to monitor the reader with a complete suite of diagnostics that leverages a new generation of FTP image saving. The new web Device Discovery simplifies the access and monitoring of all the readers in the network.

Matrix 320 2MP models compliment the current Matrix family of Matrix 120 and Matrix 220, once again establishing Datalogic leadership in Stationary Industrial Scanners.

Barcode
IMAGE-BASED ID READERS
60
datalogic
Download
380
d: 36~100